KC to skip Duffy's turn, setting up vets for more starts
KC to skip Duffy's turn, setting up vets for more starts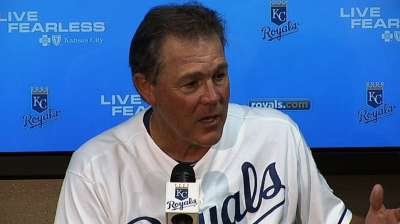 CLEVELAND -- The Royals on Thursday will get the day off for the first time in more than three weeks. In addition to the rest provided by the break in the schedule, Kansas City can use Thursday to reconfigure its rotation for the rest of the season, and the club is taking advantage of that opportunity.
Danny Duffy, who was supposed to start Friday in Detroit, will be skipped, setting up Bruce Chen, Ervin Santana and Jeremy Guthrie to pitch in this weekend's series. Duffy has made five starts since returning to the mound following last year's Tommy John surgery -- two of which were against Detroit -- and Royals manager Ned Yost wanted to use more experienced pitchers against the Tigers.
"With the off-day -- the first one we've had in a long, long time -- it gives us the ability to skip [Duffy] one time through and use him again," Yost said. "We've got 17 games left, and you want your most veteran, your most productive pitchers on the mound as often as you can."
In making his decision, Yost considered Duffy's surgery and the lefty's recent outings, which the manager described as "high-effort starts." Duffy threw 87 pitches over 4 1/3 innings on Saturday, 91 pitches over 3 2/3 innings on Sept. 2 and 103 pitches over 6 2/3 innings on Aug. 28.
"You're always planning," Yost said. "It moves everybody up now, but it moves everybody up at the end, too, which allows us to have James Shields available for a playoff game -- another reason we did it, too. It benefits Duffy and just solidifies the rotation going through the last two and a half weeks of the season."
Duffy, 24, is 2-0 with a 1.85 ERA this season. In 31 career starts, he has an 8-10 record and 4.75 ERA.
The young lefty was not disappointed with his manager's decision.
"I understand completely," Duffy said. "No reaction, really. I'm not mad or frustrated or anything. Skip knows what he's doing."
Mark Emery is an associate reporter for MLB.com. This story was not subject to the approval of Major League Baseball or its clubs.