Race gets tighter as Tribe falls to Royals
Race gets tighter as Tribe falls to Royals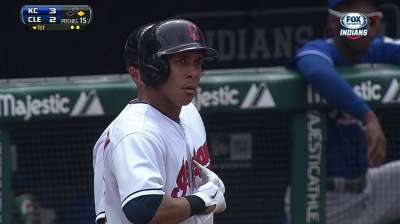 CLEVELAND -- The Indians are doing all they can not to glance ahead to their remaining slate. As the club tries to make up ground in the American League Wild Card race, the players have adopted the narrow-focused mindset of manager Terry Francona.
There is no game more important than the next one.
"For us," Indians starter Scott Kazmir said, "it's more of going out there on a daily basis, an inning basis, a pitch-by-pitch basis."
It only took one pitch to know that it was going to be a long afternoon for the Indians.
Kazmir began his outing Wednesday with a fastball to Alex Gordon, who continued his torment of the Tribe by launching it into the stands in right field for a leadoff home run. It was just one of those days for Cleveland, which could not solve Royals right-hander James Shields in a 6-2 loss to wrap up a three-game series at Progressive Field.
Each series is important for the Indians the rest of the way, but this represented the team's final face-to-face meeting at home with a team that is also in the American League's Wild Card race. Shields has earned a reputation of coming up big when it matters most, and the right-hander followed suit in sending the Tribe to a series loss.
Frustration filled Cleveland's clubhouse.
"It's not harder just because they're in it. It's harder because we're in it," Indians center fielder Michael Bourn said. "We've still got 17 games left. We just need to try to finish strong. If we can get things going, I think that we can have a chance to be playing in October."
Shields silenced Cleveland's offense after a slight hiccup in the first inning, pulling the Royals a little closer to the Wild Card pack.
With the defeat, the Indians (77-68) will be no more than 2 1/2 games back of Tampa Bay for the AL's second Wild Card spot, pending the result of the Rays' game against the Red Sox Wedneday night. Things are more complicated than that, though, considering the Royals are just a half-game behind the Indians, and the Orioles and Yankees are still very much in the mix, too.
Cleveland might take some solace in knowing that next week's three-game series in Kansas City is the last on the regular-season schedule against a team with a winning record. The Indians will first head to Chicago to take on the White Sox, who are in last place in the AL Central, in a four-game clash beginning Thursday. Cleveland's final three series of the year will be against the Astros, White Sox and Twins.
"They're a good team. They're right where we are," Francona said of the Royals. "They're fighting like crazy like we are. They're a real good team. We hung on in the first game, and then they beat us twice. So now we've got to go play well tomorrow [in Chicago]."
The Royals made it known right away on Wednesday that they are not going away easily. Gordon opened the game with his 19th home run of the season, and Kansas City churned out three runs on five hits against Kazmir before the smoke cleared on the first inning. A throwing error by Kazmir on a pick-off attempt in the fifth helped the Royals take a 4-1 lead.
Kansas City (77-69) added a pair of insurance runs against Cleveland's bullpen to widen the gap.
Both Kazmir and Shields had a reversal of fortunes.
In his start against the Mets on Friday, Kazmir spun six shutout innings and ended with 12 strikeouts and no walks in an overpowering performance. Against the Royals, the lefty was charged with four runs (three earned) on nine hits with four strikeouts, slipping to 8-8 on the season as a result.
"They are a good offensive team," Kazmir said. "Definitely, I give them a lot of credit. At the same time, we're facing a lot of teams that are stacked like that, so it's really no excuse. We've got to go out there and get the job done. We didn't today."
Shields (11-8) changed course in the other direction. Facing the Tigers on Friday, the right-hander was torched for 10 runs on 14 hits in just 3 2/3 innings. In the first inning against the Indians, Michael Brantley delivered a two-run single to trim Kansas City's lead to 3-2, making it appear for a moment that Shields had another rough day in store.
Unfortunately for the Indians, that is where their offense went dry.
Cleveland opened the game with a 2-for-4 showing against Shields, who quickly pulled himself together to give Kansas City the kind of outing it had in mind when it acquired him from the Rays over the winter. Following Brantley's single, the Indians went 0-for-23 through the eighth inning against Shields, who struck out seven and walked one en route to the win.
The Indians attempted a late comeback in the ninth, when Jason Kipnis and Carlos Santana came through with back-to-back singles off Shields. At that juncture, though, Kansas City handed the ball to closer Greg Holland, who struck out the game's final three batters to notch his 42nd save.
"James comes off his arguably worst start of the year," Royals manager Ned Yost said, "and has arguably his best start of the year. He just literally put us on his back today and carried us."
The Indians will do what they can to quickly shift their focus to the White Sox.
"The next one is the most important one," Tribe second baseman Kipnis said.
Jordan Bastian is a reporter for MLB.com. Read his blog, Major League Bastian, and follow him on Twitter @MLBastian. This story was not subject to the approval of Major League Baseball or its clubs.