KC tops Tribe, keeps pressure on in playoff chase
KC tops Tribe, keeps pressure on in playoff chase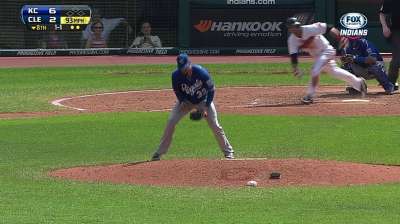 CLEVELAND -- James Shields said he doesn't treat crucial games with any added significance. His performance Wednesday suggested otherwise.
After the Royals and Indians split the first two games of this week's set, Shields took the mound in Cleveland with the series hanging in the balance. Facing a fellow contender in the American League Wild Card race, Shields gave up just two runs in eight-plus innings of work, leading the Royals to a 6-2 victory at Progressive Field.
"I'm not worried about what's at stake," Shields said after his gem. "I'm worried about winning ballgames right now."
The game in Cleveland was the first contest on Wednesday's MLB docket. With the victory, Kansas City (77-69) will at worst remain three games behind Tampa Bay for the second AL Wild Card spot. A Rays loss would put the Royals just two games back. By winning the series in Cleveland, Kansas City closed to within a half-game of the Indians (77-68) in the standings.
"To come in here and win a series against a tough Cleveland team was huge for us," Royals manager Ned Yost said, "especially considering where we are at this point of the season. Losses hurt now. You've got to really try to keep them at a minimum if you can."
The Royals haven't dealt with too many losses over the past few weeks. They've won eight of 11 games and 13 of 18. Kansas City will get a much-deserved rest on Thursday, a day off that comes after the club went 26-18 over a 44-day stretch that demanded 44 games.
It was easy for Kansas City to smile after the capper on Wednesday, thanks in large part to Shields (11-9, 3.38 ERA). On the afternoon, he yielded four hits -- two in the first and two in the ninth -- while racking up seven strikeouts and issuing just one walk. He raised his league-leading innings total to 207 2/3 with the effort.
"James comes off his arguably worst start of the year and has arguably his best start of the year," Yost said. "He just literally put us on his back today and carried us."
Last Friday, Detroit jumped on Shields for 14 hits and 10 runs, with both figures tying career highs for the right-hander. For the sixth time this season, he would take the mound on the heels of an outing in which he allowed four or more runs. And for the sixth time this season, he would turn in a quality start.
After the Royals opened the game with three runs, Shields got himself in early trouble by allowing a leadoff single to Michael Bourn and hitting Mike Aviles. He induced a groundout from Jason Kipnis and popup from Carlos Santana, but Michael Brantley laced a two-out single up the middle to make it a one-run game.
From that point, Cleveland went hitless until the ninth inning, when Shields surrendered a couple more before making way for closer Greg Holland, who picked his 42nd save by striking out three straight hitters.
"I wanted to finish bad," Shields said, "just for the lone fact that I wanted to give Holly two days off, man. This guy's been a beast all season long. He's been pitching a lot lately. I'm pretty disappointed not finishing the game. Obviously, in that situation, you've got to bring him in. We do have a day off, but I kind of wanted to give him a couple days off."
The Royals got right to work in backing their starter. With Scott Kazmir on the hill for Cleveland, Alex Gordon stepped in and bashed the game's first pitch over the wall for a quick lead, extending his franchise record for leadoff home runs to 13.
"He said he was going to do it," Yost said of Gordon, who also hit a leadoff homer on Sept. 3. "He picks his spots, man. That's two times in a row he says, 'I'm going to go up there and ambush [the] first pitch and hit it out.'"
Emilio Bonifacio followed Gordon with a sinking liner to right, which got past a sliding Drew Stubbs and resulted in a triple. On the very next pitch, Eric Hosmer singled in Bonifacio.
After Kazmir (8-8, 4.42 ERA) retired the next two hitters, it was Justin Maxwell's turn to hit. Maxwell swung through the first two pitches and fouled off the third. He looked at No. 4, which Kazmir and his catcher, Yan Gomes, both thought was strike three. The umpire disagreed, and Maxwell continued the inning with a single. That brought up Lorenzo Cain, who drove in Hosmer with a single to center.
"That's baseball, I guess," Kazmir said. "You've got to just keep battling out there and hope for the best. It just didn't work out for that particular at-bat, for sure. It was overall a very frustrating day for all of us."
With three runs in the first, the Royals had all the offense they'd need.
"After what I did, I think we just kind of rolled with it in the first inning" Gordon said. "[Kazmir's] got great stuff. You don't want to get behind on him. We were able to get good pitches to hit early on and do something with it."
Kazmir went on to retire the next eight Royals hitters but put men on the corners to start the fifth inning. At that point, the Indians turned to reliever Bryan Shaw to face Billy Butler, who hit into a 5-4-3 double play that resulted in an unearned run.
In four-plus innings, Kazmir was charged with nine hits and three earned runs. He struck out four hitters and did not issue a walk.
Kansas City padded its lead in the seventh and eighth innings. Rich Hill entered the seventh with one out and walked Gordon, who advanced to third on a single by Bonifacio and crossed the plate on an errant pickoff attempt by the new pitcher. An inning later, Mike Moustakas -- who did not start but replaced Jamey Carroll at third base in the seventh -- hit a two-out single up the middle to plate Cain. Before, Cain walked and stole second.
The Royals' runs were interspersed with shutdown inning after shutdown inning from Shields. Kansas City is eyeing its first postseason appearance since 1985, and Shields is a huge reason why.
"Hey, we're playing good baseball right now," Shields said. "We've got a lot of character and heart on this team. We're going to try to be in it until the end."
Mark Emery is an associate reporter for MLB.com. This story was not subject to the approval of Major League Baseball or its clubs.