Pence's big night not enough for Giants
Pence's big night not enough for Giants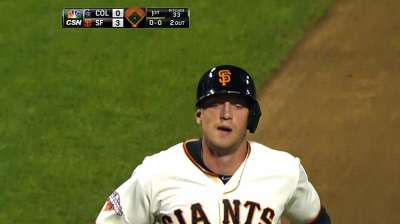 SAN FRANCISCO -- Hunter Pence made baseball history Tuesday night, joining the exclusive 20-homer, 20-steal club, but the San Francisco Giants suffered an ugly 9-8 loss to the Colorado Rockies they'd like to forget.
Pence went 4-for-5 with a home run, a double and a career-high-tying six RBIs. On this night, the Giants needed even more offense. The Giants blew a 6-0 lead, fell behind 8-6 then pulled even in the eighth, but Colorado's Michael Cuddyer hit a solo home run off Sergio Romo -- his second homer of the night -- leading off the ninth.
"Pence, he tried to carry us tonight," Giants manager Bruce Bochy said. "It's quite a night he had. We just couldn't hold them. He comes to play every day. He doesn't let up."
Pence slugged a three-run homer in the first inning off left-hander Jorge De La Rosa, powering the Giants to a 3-0 lead and becoming the seventh player since the franchise moved to San Francisco to hit at least 20 homers and steal 20 bases in a season.
Then with the Giants trailing, 8-6, in the bottom of the eighth, Pence hit a game-tying, two-run single, scoring Marco Scutaro and Brandon Belt. Scutaro had led off the inning with a single -- his third hit of the night -- off Wilton Lopez and Belt doubled him to third.
Pence, who has started every game this season, said he never saw this type of performance coming.
"To be honest with you, I felt terrible before the game," Pence said. "It's funny. I kind of joked about it because the day before, last night, I felt awesome in BP, my body felt great, everything felt wonderful, and I didn't get any hits and had some pretty bad at-bats. We won the game, so it was a great game. And then today, BP was awful. I was joking with [third-base coach Tim] Flannery. I told him about yesterday and today and was like, 'So I'm due for a lot of hits.' Somehow it worked out."
Pence hit his 20th home run Tuesday to go with 21 stolen bases.
He became the first Giant to accomplish the feat since Barry Bonds hit 37 homers and stole 27 bases in 1998. San Francisco's 20-20 club members are Bonds (six times), Bobby Bonds (six times), Willie Mays (three times), Jeffrey Leonard (once), Glenallen Hill (once), Orlando Cepeda (once) and Pence.
Pence is just the third player in the Major Leagues to reach the 20-20 mark this season, joining Colorado's Carlos Gonzalez and the Los Angeles Angels' Mike Trout.
"It's a great accomplishment," Giants catcher Buster Posey said. "It's hard not to be a huge fan of Hunter's. From the time he gets here until the time he leaves, he's probably the hardest worker I've ever seen."
Cuddyer had gone 0-for-4 with three strikeouts against Romo until homering in the ninth on a 3-2 pitch.
"It got ahead in the count," Cuddyer said. "I don't usually sniff Romo, so I didn't want to get out 3-0 on a ball or something like that. I took the 3-0 pitch, fastball for a strike. I felt like I got a good swing on the slider. I topped it, nubbed foul. Then I saw the ball and reacted on the 3-2 pitch. Fortunately I got the barrel on it."
Giants right-hander Ryan Vogelsong took a 6-0 lead into the fifth but gave up five runs on five hits in the inning, including a three-run home run to Cuddyer. For the night, he gave up eight hits over five innings, getting a no-decision.
Vogelsong lasted just 4 2/3 innings in his previous start, giving up four runs, but Bochy said, "Now's not the time to talk about whether we're going to give him a break. I'll check with him. He's frustrated."
Vogelsong said his arm felt "good" Tuesday, and he wasn't sure what went wrong in the fifth, other than on the pitch that Cuddyer crushed.
"I know the curveball that Cuddyer hit was not good," Vogelsong said.
The Rockies scored twice in the sixth to take a 7-6 lead as the Giants used three relievers: Jose Mijares, Jean Machi and George Kontos, who got Cuddyer to ground out with the bases loaded. Colorado added a run in the eighth.
De La Rosa, who got a no-decision and kept his six-game winning streak alive, gave up four runs and lasted just two innings against the Giants. He left the game with left thumb soreness, according to the Rockies.
Angel Pagan smoked a leadoff double down the left-field line in the first and moved to second when Posey worked a two-out walk, bringing Pence to the plate. Facing a 3-2 count, Pence sent De La Rosa's splitter high off the left-field foul pole for a three-run blast.
Pence said he thought it was fair "all the way" off his bat.
"And then they told me it hit the far left of the foul pole," he said. "I'm just glad it stayed fair."
Eric Gilmore is a contributor to MLB.com. This story was not subject to the approval of Major League Baseball or its clubs.