Rangers struggling with runners in scoring position
Rangers struggling with runners in scoring position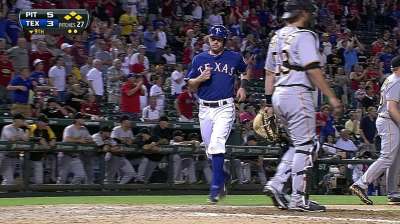 ARLINGTON -- The last two innings of Tuesday's game were sharp offensively from Elvis Andrus' perspective. The Rangers were able to drive in three runs, but they fell a run short, losing 5-4 to the Pirates.
"We were focused," Andrus said. "We went away a little bit from that. It's the mindset we need to have starting in the first inning today. If we're able to do that in the first inning, it's going to bring a lot of offense back."
Rangers manager Ron Washington wasn't surprised by the late offensive outburst, because the club has put itself in position to score runs. They just haven't drove many in, hitting .195 with runners in scoring position in the last 11 games. The Rangers were 12th in the American League with runners in scoring position, batting .250 this season, entering Wednesday.
"Our issue has nothing to do with none of that, it's just getting a base hit at the right time, because we've been putting ourselves in the right position," Washington said. "We just got to get a base hit. That's what it's been."
Adrian Beltre dropped to 2-for-24 with runners in scoring position when he struck out to end the game on Tuesday. While he recorded two hits in the game, that equaled his total hits in the previous six games.
"He's just not centering the ball," Washington said of Beltre. "When he gets his pitches, he's missing them. He's getting on top of a lot of balls. He's just not getting through them. The couple that he does get through, it seems like there's someone standing there catching them. I'm not worried about Beltre. He's been there before. He'll figure it out."
The Rangers were 6-for-15 (.400) with runners in scoring position, but still lost on Wednesday, 7-5, to the Pirates. Beltre was 1-for-4, but flew out with runners on first and third and two outs in the sixth.
Master Tesfatsion is an associate reporter for MLB.com. This story was not subject to the approval of Major League Baseball or its clubs.