Kinsler at DH despite undisclosed injury
Kinsler at DH despite undisclosed injury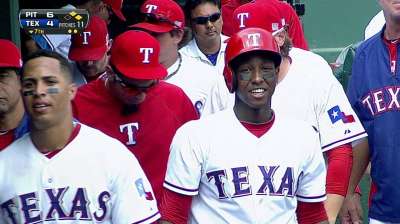 ARLINGTON -- Ian Kinsler remained in the lineup on Wednesday against the Pirates, but he was the designated hitter after suffering an undisclosed injury in Tuesday's 5-4 loss.
"It's a thing," Kinsler said on the injury.
He hinted it was somewhere below his head and above his ankle. Kinsler grimaced as he slid into home plate during the ninth inning on Tuesday. While the injury remains unknown, he's healthy enough to hit. Kinsler and Rangers manager Ron Washington both feel he'll be ready to go after Thursday's off-day for the three-game series against the A's.
"Everyone has problems during this time of year," Kinsler said. "It's something I have to maintain and make sure that it doesn't get worse than what it is."
Kinsler went 2-for-5 with an RBI single in Wednesday's 7-5 loss, but he's still hitting .217 (10-46) this month.
Master Tesfatsion is an associate reporter for MLB.com. This story was not subject to the approval of Major League Baseball or its clubs.