Rangers pay tribute on 9/11 anniversary
Rangers pay tribute on 9/11 anniversary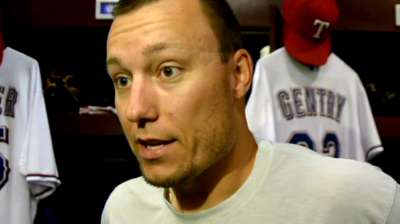 ARLINGTON -- The Rangers honored the 12th anniversary of 9/11 with a Patriot Day Moment of Silence before Wednesday's game against the Pirates. The 531st Air Force Quintet sang the national anthem and TSgt. Shonda Winkler sang God Bless America.
Former Quartermaster Corps Private First Class Jessica Lynch threw out the first pitch. She was a prisoner of war of the Iraqi military at 19-years-old and was rescued by the United States forces on April 1, 2003. It was the first successful rescue of an American POW since World War II, and the first of a woman.
Texas, along with the other 29 Major League clubs, also wore a special cap with a U.S. flag patch on the side.
"I'm absolutely glad they still do that and we still do that," said Jeff Baker, whose father spent 22 years in the United States Army and retired as a colonel. "The day we lose sight and forget is the day something happens again. I'm not concerned too much going forward about how we're going to respond, because I know the way they've responded for the last 10 years. I think baseball will always do the right thing.
Baker wore a Wounded Warrior Project shirt in the clubhouse before the game, as he so often has throughout the season. He's very engaged in the organization given his background. When the team faced the Yankees in June, Baker and a few of his teammates went to the 9/11 Memorial.
"It makes you realize baseball is a game, it's more for fun," Baker said. "It puts things in perspective for you. Unfortunately, as professional athletes, we think what we do is the most important consuming thing of the day and that's not the case."
Master Tesfatsion is an associate reporter for MLB.com. This story was not subject to the approval of Major League Baseball or its clubs.