Uehara extends perfect streak with four-out save
Uehara extends perfect streak with four-out save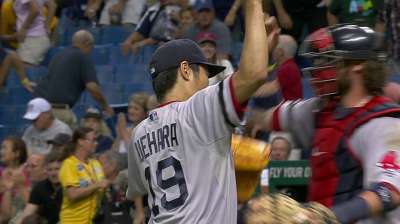 ST. PETERSBURG -- Koji Uehara continues to be the perfect closer.
At some point, he will probably allow another baserunner. But in the meantime, the Red Sox will just keep enjoying the ride.
The right-hander worked a four-out save on Tuesday to preserve the Red Sox's 2-0 victory over the Rays.
Dating back to Aug. 17, Uehara has now retired the last 31 batters he's faced. That ties fellow Japanese pitcher Hideo Nomo for the club record, which he set in 2001.
"I have huge respect for him," Uehara said of Nomo. "He's somebody that I looked up to. He's on another level."
Actually, Uehara is the one on another level these days. He hasn't allowed an earned run over his past 31 2/3 innings, dating back to June 30.
Clay Buchholz made his return to action for the Red Sox on Tuesday, pitching for the first time since June 8, but he is well aware of what the closer had been doing in his absence.
"I've been watching, I promise," said Buchholz. "The guy is unbelievable. Unbelievable is the only word I can use to describe it. He's the best there is right now. It's fun to watch."
In 65 appearances this season, Uehara has a 1.10 ERA. He has 91 strikeouts in 65 2/3 innings.
"It's a very calm inning when he comes to the mound, and that was the case again tonight," said manager John Farrell.
Ian Browne is a reporter for MLB.com. Read his blog, Brownie Points, and follow him on Twitter @IanMBrowne. This story was not subject to the approval of Major League Baseball or its clubs.