Mariners on wrong side of blowout in Seattle
Mariners on wrong side of blowout in Seattle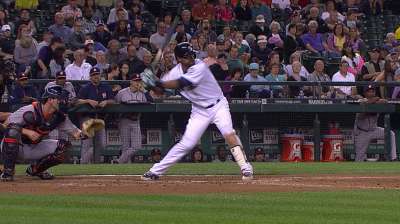 SEATTLE -- Only one of the teams at Safeco Field on Tuesday night performed like one of the American League's lowest-scoring offenses. The Astros raced out to an early lead on their way to a 13-2 victory, securing a series victory in the second meeting of a three-game set with the Mariners.
The Astros' offense -- which leapfrogged Seattle to take sole possession of 12th place in the AL in runs scored -- put up superlative numbers at the plate and on the basepaths. Houston put 24 men on base thanks to 17 hits, six walks and a hit-by-pitch, and moved them along by converting all five stolen-base attempts.
"[Hitting] definitely is contagious," Astros manager Bo Porter said. "You start to swing the bat and start to see your teammates getting hits, it's one of those things. It's like pass the baton. Guys are really seeing the ball well, laying off some tough pitches and then getting pitches they can handle and putting good swings on it."
Mariners starter Joe Saunders was in trouble from the game's first pitch, which Jonathan Villar sent deep over the left-field wall. Houston continued to tee off against the lefty to the tune of six runs in the first three innings.
"He's a great competitor but I haven't seen the command," manager Eric Wedge said. "He still has the velocity on the fastball, you saw him get some good punchouts inside to right-handers today, which usually means if you're getting there, you're OK. He has made it difficult for himself just going deep in counts and working counts."
The Mariners have now lost three series to the last-place Astros, including two at home. Seattle has won just three of its past nine games.
"In this game, no one's going to feel sorry for you," outfielder Raul Ibanez said. "Life goes on and tomorrow's a new day, you've got to come prepared to change your circumstances. We're much better than this and tomorrow we're going to come prepared to change our circumstances."
The bulk of the damage came in the third. Saunders gave up three doubles and the Astros stole three bases behind his back, putting the Mariners in an early 6-1 hole. Saunders did manage to strike out five over his three innings but allowed seven hits and issued a walk in a forgettable night.
The best news of the game for Seattle was the relief work of Tom Wilhelmsen, who took over for Saunders and pitched two innings without allowing a baserunner. Wilhelmsen began the year as the team's closer and is 11th in the AL with 24 saves.
His struggles in June and July led to Danny Farquhar assuming the closer's role, and Wilhelmsen was subsequently demoted to Triple-A. Since he was recalled on Sept. 1, Wilhelmsen has thrown 3 2/3 scoreless innings.
The Mariners' first run came in the second inning, when Franklin Gutierrez plated Ibanez from second base with a single. Ibanez led off the frame with a double to center that was just shy of a home run. Had it cleared the fences, the homer would have been Ibanez's 28th of the season, moving him into a tie with Barry Bonds for second-most home runs ever hit by a player in his age-41 season.
Seattle tacked on another run in the sixth, when Gutierrez singled home rookie Abraham Almonte. The 24-year-old Almonte has impressed with his speed and has scored seven runs in just 11 games with the club. He hit his first Major League home run on Monday night.
Mariners relievers combined to strike out seven batters, giving them 478 for the year and breaking the former club record of 476 strikeouts by the bullpen in a season. Carter Capps was the biggest contributor with three strikeouts in 1 2/3 innings.
Jacob Thorpe is an associate reporter for MLB.com. This story was not subject to the approval of Major League Baseball or its clubs.