Astros erupt on offense to back win for Lyles
Astros erupt on offense to back win for Lyles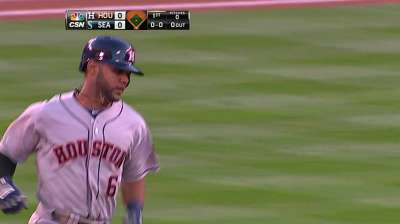 SEATTLE -- Rookie shortstop Jonathan Villar got things started for the Astros when he launched the first pitch of the game over the left-field wall for his first career home run. It turned out the fun was just getting started for the Astros.
The Astros exploded for one of their biggest offensive games of the season Tuesday night, banging out 17 hits, including a season-high eight doubles, to back a strong performance by starting pitcher Jordan Lyles and blast the Mariners, 13-2, at Safeco Field.
"Villar got it started with the home run leading off the game, and offensively the guys put together some quality, quality at-bats up and down the lineup," Astros manager Bo Porter said.
By winning the first two games of the series, the Astros improved to 8-10 against the Mariners this year, including 5-4 in Seattle. They have won three series from the Mariners this year, including two on the road.
The Astros' biggest offensive game of the season came on April 9 when they had 22 hits en route to a 16-9 win in Seattle. They couldn't quite match that output Tuesday, but their 17 hits were tied for the second-most this season.
"It definitely is contagious," Porter said. "You start to swing the bat and start to see your teammates getting hits, it's one of those things. It's like pass the baton. Guys are really seeing the ball well, laying off some tough pitches and then getting pitches they can handle and putting good swings on it."
Villar went 2-for-5 with two stolen bases on consecutive pitches in the third inning, and Jose Altuve continued his torrid September by going 3-for-6 with three RBIs and three steals. He's hitting .457 (21-for-46) this month.
Brandon Laird went 2-for-5 and hit a two-run homer in the seventh that made it 8-2, and Matt Dominguez and Chris Carter each had three hits and drew bases-loaded walks in the eighth. Carter (3-for-4) reached base five times. L.J. Hoes was 2-for-4 with three RBIs.
"The guys are playing really good ball and we're pitching the ball really good," Altuve said. "We're swinging the bat well and running the bases and the defense is good. That is one of the things that made me really happy. For me, I want to finish strong and be on base and score some runs for my team to try to create some momentum for next year."
After going 0-5 with an 8.49 ERA in an eight-start stretch from June 23-Aug. 6, Lyles (7-7) has gone 3-1 with a 3.31 ERA in his past five starts to take over the team lead in wins from Bud Norris, who was traded six weeks ago.
"It was good that we were able to get out to an early lead and we were able to get settled in," Porter said. "He did a tremendous job, especially the second time through the lineup, of attacking with his fastball."
When Lyles is throwing well, he's working from a downhill angle and hitters are getting on top of the ball for quick outs. That was the case Tuesday, when he retired all nine hitters he faced the second time through Seattle's batting order.
"For me, mechanically, I tried some things differently and had more life on the fastball and got the ball downhill a little bit better," he said. "My [velocity] was up a little bit, so that's what we worked on and it felt pretty good. Just trying to get in a groove and attack hitters, and once the offense put that many points on the board, it's just go into attack mode."
The Astros pounded Mariners starter Joe Saunders (11-14), getting six runs and seven hits off him in just three innings. He was 3-1 with a 4.50 ERA in four previous starts against the Astros this year, but is 0-4 with a 10.42 ERA in his past four home starts.
"He's a great competitor but I haven't seen the command," manager Eric Wedge said. "He still has the velocity on the fastball, you saw him get some good punchouts inside to right-handers today, which usually means if you're getting there, you're OK. He has made it difficult for himself just going deep in counts and working counts."
Houston scored four times in the third to take a 6-1 lead on an RBI double by Altuve, a bloop RBI hit by Dominguez and a two-run double by Hoes.
"The team, we've scrapped and fought all year since I've been here," Hoes said. "We've had some plays that haven't went our way, some calls that haven't went our way, but we never let it get us down. Just to get that hit in that situation [in the third], I was trying to put the ball in play and luckily it found the hole and two runs were able to score."
The Astros struck out 12 times, breaking the club single-season record set last year with 1,367 strikeouts. Trevor Crowe and Cody Clark combined to go 0-for-10 with six strikeouts Tuesday, with Clark falling to 0-for-24 to begin his Major league career.
Brian McTaggart is a reporter for MLB.com and writes an MLBlog, Tag's Lines. Follow @brianmctaggart on Twitter. This story was not subject to the approval of Major League Baseball or its clubs.