Affeldt to return Wednesday; Gaudin needs more time
Affeldt to return Wednesday; Gaudin needs more time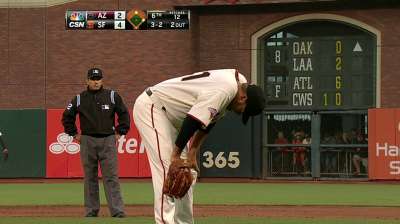 SAN FRANCISCO -- Giants left-hander Jeremy Affeldt will be activated from the disabled list Wednesday, but right-hander Chad Gaudin won't come off the DL for at least a few more days.
Affeldt has been on the DL since July 21 with a groin injury, while Gaudin has been on the list since Aug. 20 with right side carpal tunnel syndrome. Both pitchers threw simulated games Monday. Affeldt was deemed ready to be activated.
"That's good news," Giants manager Bruce Bochy said Tuesday. "I did talk to Chad about his situation. He may face some hitters one more time for his sense of comfort then activate him if all goes well there."
Gaudin will likely throw another simulated game Thursday at Los Angeles before the opener of a four-game series against the Dodgers.
Affeldt threw his third simulated game Tuesday and said it was his "best overall, stuff wise, rhythm wise," of the three. "I was able to feel like my body was allowing me to be aggressive, not tentative when I went to throw."
Before Wednesday's game against Colorado, Affeldt took some fielding practice.
"Fielded some bunts, turned double plays, stuff like that, and it felt pretty good," he said. "It's not going to be 100 percent until Spring Training because I've been beating it up for six weeks trying to get it back.
"It's not like it's had a lot of rest or rehab. The goal is to just get me out there a few times to finish off healthy then let the offseason finish off the healing process."
Eric Gilmore is a contributor to MLB.com. This story was not subject to the approval of Major League Baseball or its clubs.