Belt's confidence grows along with offensive numbers
Belt's confidence grows along with offensive numbers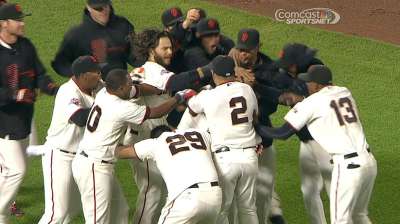 SAN FRANCISCO -- Giants first baseman Brandon Belt was batting just .255 after going hitless for the sixth time in seven games Aug. 1.
Since then, Belt has been a hitting machine. In 34 games entering Tuesday, he has hit .354 with five home runs, 10 doubles, three triples and 16 RBIs. He's had four hits twice, three hits three times and two hits six times. What's more, he's raised his average 28 points to .283 and solidified himself as a middle-of-the order hitter for the Giants.
Belt hit third Tuesday night against Colorado, one night after going 2-for-5 with an RBI double and a walk-off single in the 10th inning in a 3-2 Giants victory.
"I think right now the only way you can raise your average on a personal level is to get multi-hit games," Belt said. "It's nice to have those. Any time you can get a multi-hit game you've got a good chance of driving in a run. Just being productive somehow on the offensive side."
Belt has already set single-season career highs for home runs (15) and doubles (32). With 55 RBIs he's one shy of his career best. He's on pace to set a career-high batting average.
Giants manager Bruce Bochy said Belt has always been a confident hitter but that a combination of more experience and a few adjustments to his grip and swing have allowed him to produce even more in pressure situations.
"I think the adjustments he's made have made it easier for him to deliver in those conditions," Bochy said. "He's a guy that's played in some important games. If you go through the playoffs and World Series, he had to be able to handle those tough situations. It's all about performing under pressure.
"That's what good players can do. I think he's always had that in him, but no, the fact he's got better plate coverage, closed some holes in his swing, he's going to even come through more. He's going to be that much more consistent with the bat .It's all about growing as a player, maturing, handling everything in a better way, the ups and downs."
Eric Gilmore is a contributor to MLB.com. This story was not subject to the approval of Major League Baseball or its clubs.