Brewers fall after Peralta takes no-hit bid into sixth
Brewers fall after Peralta takes no-hit bid into sixth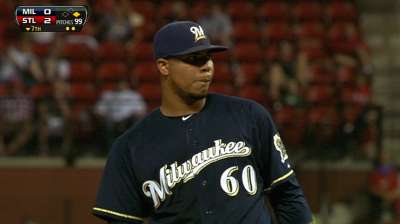 ST. LOUIS -- Considering the meager run support Wily Peralta has received since the All-Star break, it might have taken a no-hitter for the right-hander to win Tuesday.
But Peralta lost his no-hit bid and his shutout on one sixth-inning swing by the Cardinals' Matt Holliday, whose two-out, two-run home run sent the Brewers on their way to a 4-2 loss at Busch Stadium in the opener of a three-game series.
The Brewers were blanked over 6 2/3 innings by Cardinals starter Shelby Miller and were two outs away from being shut out in the game before Logan Schafer delivered a pinch-hit, two-run homer in the ninth. The soft support continued a frustrating trend for the 24-year-old Peralta, who has seen the Brewers score three or fewer runs in nine of his 10 starts since the break, including one or no runs in five of those games.
The exception was Peralta's 9-3 win against the Pirates his last time out.
"It's sometimes hard, because you have to be pretty much, like, perfect," said Peralta. "You don't want to give up a run early because you know you don't get so [much] run support. But it happens to everybody at one point in your career. You try to put up quality starts and give up as [few] runs as you can and help keep your team in the ballgame and see if we can score some runs later."
On Tuesday, Peralta was charged with three runs on two hits and four walks in 6 2/3 innings, and Brewers' bats went mostly silent once again.
Miller had something to do with that, scattering five hits and two walks while striking out four batters. He faced his only jam in the second inning, when Aramis Ramirez and Scooter Gennett singled before Miller worked carefully to eight-hole hitter Martin Maldonado, eventually issuing a walk that loaded the bases for Peralta. He grounded out to end the threat.
In four starts against Milwaukee this season, Miller is 3-0 with a 1.08 ERA. In two starts against the Brewers at Busch Stadium, Miller has worked 13 2/3 scoreless innings.
"This is a great young pitcher. He's pitching more now," Brewers manager Ron Roenicke said. "The first time we saw him, he just threw high fastballs and blew us away. He's really pitching now, throwing a lot of breaking balls, throwing a really good changeup, and still has the velocity when he wants it on his fastball. He's pitching down in the zone now more with his fastball and up when he wants to. He doesn't look like a rookie."
For five-plus innings, Peralta was just as effective.
He struck out five of the first seven St. Louis batters he faced before Jonathan Lucroy's missed catch error at first base spotted the Cardinals their first baserunner in the third inning. Peralta escaped that inning, worked around a walk in the fourth, saw right fielder Norichika Aoki rob David Freeze of a hit in the fifth with a terrific sliding catch near the foul line, and was positioned to work around another walk in the sixth before Holliday stepped to the plate with Matt Carpenter at first base and two out.
Peralta's first pitch was a 95-mph sinker that caught too much of the plate. Holliday hammered it to the left-center field seats for a 2-0 Cardinals lead -- the 18th home run off Peralta this season and the 10th on the road.
"The funniest part is that was the first pitch he shook me off all night," said Maldonado, Peralta's personal catcher. "I wanted a fastball down and away. [He] wanted to go a sinker in. That's part of baseball. I prefer if you're going to give up a homer or a base hit in that situation, it's a pitch they commit to."
Peralta fell to 2-6 since the All-Star break and tied the Cubs' Edwin Jackson for the National League lead with 15 losses.
Peralta saw the positives in his outing.
"A start like that, it makes me more confident," he said.
Does Roenicke worry Peralta is bothered by the poor run support?
"I don't know," he said. "He hasn't said much about it. I really haven't talked about it. I just think if he keeps doing his thing like he's doing, we're going to be real happy with what he brings to the future here."
The Cardinals added insurance in the seventh inning, when Carpenter greeted slumping reliever Michael Gonzalez with an RBI single, and scored another run in the eighth against Donovan Hand to extend the Brewers' deficit. That was big when Schafer came off the bench and connected against Cards closer Edward Mujica, making it 4-2.
Mujica retired the game's final two hitters and preserved the Cardinals' one-game lead in the National League Central over the Pirates, who also won Tuesday in Texas.
Milwaukee fell to 3-11 against St. Louis this season, and Peralta was not the only one licking his wounds. Shortstop Jean Segura went 0-for-4 and finished a day with a sub-.300 batting average for the first time all season. He is now hitting .299. Leadoff man Aoki struck out three times for the first time since coming to the Major Leagues last season.
"I've had trouble with Aoki," Miller said. "He's an amazing hitter and definitely a little different with how he swings. That was one of the main things I looked at going in was how to get him out. I got him with a changeup and a backup cutter. He's a great hitter. He's definitely a tough out. He's the toughest hitter to strike out in the big leagues."
Adam McCalvy is a reporter for MLB.com. Read his blog, Brew Beat, and follow him on Twitter at @AdamMcCalvy. This story was not subject to the approval of Major League Baseball or its clubs.