Liriano stifles Rangers as Bucs hold on, keep pace
Liriano stifles Rangers as Bucs hold on, keep pace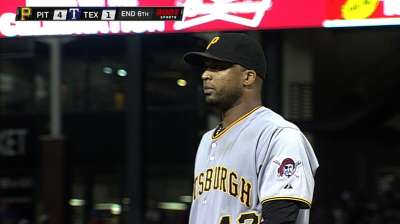 ARLINGTON -- Gerrit Cole handed the ball Tuesday to Francisco Liriano.
Liriano did not fumble it.
With Liriano back in ace mode and Nos. 2-3 hitters Jordy Mercer and Andrew McCutchen combining for seven hits, two runs and three RBIs, the Pirates edged the Rangers, 5-4, at Rangers Ballpark.
The Cardinals defeated the Brewers, 4-2, so the Bucs remain a game behind the first-place Cards in the National League Central race.
But while they did not make a move in the standings, the Pirates definitely progressed as bona fide championship stock. They passed the crunch test -- twice.
Neither involved Liriano, who again spectacularly turned the other cheek to a poor performance, holding the Rangers to one run in six innings. He allowed six hits and walked two, while fanning five.
But after Liriano departed, tension entered.
The first bromo moment came in the eighth, after the Rangers had already cut the Bucs' lead to 4-2 on Adrian Beltre's RBI single off Jason Grilli.
With runners on second and third, southpaw Tony Watson won an extended duel with lefty-abuser Jeff Baker (10 homers in 87 at-bats) by striking him out on a high 94-mph fastball to end the inning.
Upon catching the ball missed by Baker, catcher Tony Sanchez exuberantly punched the air.
"Oh, yeah ... that was a huge situation, and I get excited back there. I don't get to catch too often so when I do, I want to get the win," Sanchez said. "We'd been pounding him in, then tried to go changeup down and away and he fouled it off. So we got the fastball up for the strikeout."
"I faced the guy [Watson] a bunch when I was with the Cubs and I knew how he was going to attack me," Baker said. "I just swung at a bad pitch ... chased a pitch. If I get in the same situation again, I'll take my chances, go up there with confidence and give it my best shot."
"I gave the fist pump out of pure, genuine excitement," Sanchez said of his reaction to strike three. "The game could've easily taken a momentum swing their way."
The game did take a Texas momentum swing, soon after the Bucs had scratched out what appeared to be a ninth-inning insurance run, McCutchen's third RBI single giving them a 5-2 edge.
Closer Mark Melancon's thrill-ride began after he had struck out the first two men in the bottom of the inning.
Leonys Martin scratched out a single and was given second on defensive indifference before scoring on Ian Kinsler's single. Elvis Andrus also singled, as did Alex Rios to score Kinsler, to send Andrus to third with the tying run and bring up the dangerous Beltre.
Melancon struck him out on three straight pitches, fastballs all, and later mused "if he might have been sitting on a breaking ball on the last one."
"When all was said and done," Pirates manager Clint Hurdle, "he struck out the side ... with a little action in-between. You got two outs, nobody on base -- next thing you know, you got a nail biter on your hands."
Again, Sanchez let loose behind the plate, while Melancon calmly walked off the mound with his 13th save.
"But I was jumping on the inside," Melancon said.
With their eighth consecutive win in an American League park, the Bucs improved their Interleague record to 14-5, the Majors' best, with only Wednesday's matinee finale against the Rangers to go.
"That's pretty strong," Hurdle said of those numbers. "Getting these guys [the Rangers] the second week in September is not an easy draw, but I'm proud of our guys for trying to get something done."
The performance for Liriano's 16th win came six days after he was messed up for seven runs in three innings in Milwaukee, and continued his impressive recoil tendencies.
In the three exceptions to his otherwise exceptional season, the left-hander allowed 21 runs and 28 hits in 9 1/3 innings. In the starts immediately following those three, he has given up two runs and a dozen hits in 23 innings.
Plays otherwise overlooked loom large in a low-scoring game, and this was the case with Tuesday night's defensive gem that helped turn away the fearsome heart of the Texas lineup.
Beltre drew a leadoff walk in the fourth, and A.J. Pierzynski followed by sending a roller down the first-base line that presented Gaby Sanchez with two choices: (a) step on the bag to retire Pierzynski or (b) make a patient throw to second to ensure erasing the lead runner.
Sanchez went with (c): while fielding the ball, he kicked out his left foot just enough to flick the side of the first-base bag, then hurried a throw that was wide of second, yet Neil Walker had ample time to grab the ball and reach back to tag out Beltre for the double play.
Liriano then struck out Baker to send the 1-0 game into the fifth.
And, on cue, the Bucs made it more comfortable for their lefty by adding three runs with a two-out strike. Mercer tucked his third hit and second double into the left-field corner and continued to third when Craig Gentry misplayed the ball for an error, then scored on McCutchen's single. Two more singles by Marlon Byrd and Gaby Sanchez made it 3-0, then a wild pitch by Martin Perez brought in another run for a 4-0 lead.
Pittsburgh had taken the 1-0 lead in the third when McCutchen's infield single delivered Tony Sanchez, who had doubled and gone to third on Mercer's single.
The Rangers broke through against Liriano in the fifth, ending their 13-inning scoreless drought in this series on Kinsler's two-out double, scoring Joey Butler, who had reached on a walk.
Tom Singer is a reporter for MLB.com and writes an MLBlog Change for a Nickel. He can also be found on Twitter @Tom_Singer. This story was not subject to the approval of Major League Baseball or its clubs.