Trumbo, Hamilton chase Buehrle as Halos roll
Trumbo, Hamilton chase Buehrle as Halos roll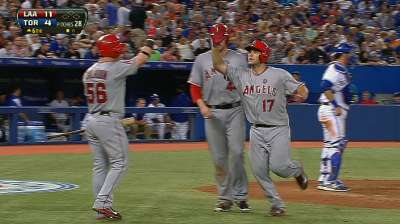 TORONTO -- There is very little middle ground for Mark Trumbo and Josh Hamilton. Both are naturally streaky hitters -- particularly this year, particularly Hamilton. There are nights, sometimes strung together over long stretches of time, when they will perpetually swing at bad pitches, strike out and make you wonder how they will ever get right again.
Then, without warning, the light switch comes on, and suddenly they are back. And sometimes, like Tuesday night, they come alive together.
Trumbo and Hamilton combined to go 8-for-10 with back-to-back homers in the Angels' 12-6 thumping of the Blue Jays at Rogers Centre, one that saw the team notch 10 extra-base hits and win for the 13th time in 18 games.
Trumbo, batting cleanup, became the first player in franchise history to record five hits and score five runs. Hamilton, batting fifth, drove in four and ended a homerless drought at 18 games by finally hitting No. 20.
In the on-deck circle, he had the best seat in the house.
"It was unbelievable, man," Hamilton said of Trumbo's first career five-hit game. "Every time he went up there, you expected something good to happen."
The hardest ball Trumbo hit came in the first inning, a double in the right-center field gap that put runners on second and third with none out and set the Angels up for a four-run frame in which they batted around.
Then came a double down the left-field line to lead off the third, then a solo homer to left field to lead off the fifth and then a double to left-center field to plate Mike Trout in the sixth, tying the Angels' record with four extra-base hits in one game. In the eighth, he laced a single to left field that was hit so hard it ricocheted off Rajai Davis' glove and allowed Trumbo to get to second base.
"This is a special night, obviously, and then there's been nights when you go home wondering what happened," said Trumbo, who could recall having a five-hit game in his first game in Double-A. "At the end of the day, if you're lucky enough to be in there every day, hopefully you're able to contribute. I definitely was able to do that tonight, to an extent."
Lately, Trumbo has been doing a lot of contributing.
He entered Sept. 6 in a 13-game slump, with seven hits, 20 strikeouts and zero walks in 50 plate appearances. Then he hit his 30th home run, and that -- coincidentally, Trumbo will tell you -- set him off on a five-game stretch in which he has gone 11-for-22 with three homers and seven RBIs.
When he is on like this, Trumbo -- now with a .244 batting average, 32 homers and 91 RBIs -- looks like one of the most dangerous hitters in baseball.
"You can see what he can do," Angels manager Mike Scioscia said. "He just keeps grinding it out, and it showed up in a big way tonight."
Hamilton, Scioscia added, "has been taking some baby steps in the last month." He entered Tuesday with a .327 batting average over a 28-game span, accumulating 34 hits in 104 at-bats, drawing 14 walks and notching 11 multi-hit games to somewhat right his nightmarish season.
"I feel like with each good at-bat," Hamilton said, "it rolls over to the next one."
Hamilton entered Tuesday's game with a .185/.214/.338 slash line against lefties. Then he ripped a two-run single in the right-center field gap in the first and added an RBI single up the middle in the third off the left-handed Mark Buehrle, who gave up eight runs on 12 hits in four-plus innings. And then, in the fifth, Hamilton's power finally showed up with a towering solo homer off the right-field foul pole, giving him his first homer since Aug. 18.
In 29 games, Hamilton's batting average has gone from .217 to a season-high .243.
"It's really nice to see," Trumbo said. "He's had his struggles this year, but the guy you're seeing now is the guy I've played against for quite some time. You couldn't be happier for someone, being a player that's in the grind and knowing what it feels like to struggle. He's doing a really, really good job, and I'm sure it's a weight off his shoulders, too."
Alden Gonzalez is a reporter for MLB.com. Read his blog, Gonzo and "The Show", and follow him on Twitter @Alden_Gonzalez. This story was not subject to the approval of Major League Baseball or its clubs.