Indians can't solve Guthrie or rally late vs. Royals
Indians can't solve Guthrie or rally late vs. Royals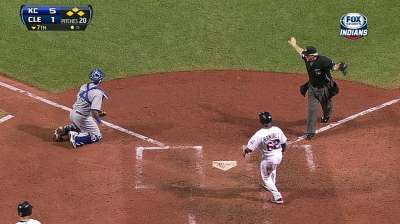 CLEVELAND -- This is the time of year when one pitch, one at-bat or one inning can have a ripple effect on the postseason picture. Taking on a Royals team that refuses to go down quietly, it was one swift sequence that cost the Indians on Tuesday in their ongoing fight for an American League Wild Card spot.
Right-hander Zach McAllister continued Cleveland's recent run of strong pitching until finally flinching in the sixth inning, causing enough damage to send the Tribe on its way to a 6-3 loss at Progressive Field. The Indians could not solve righty Jeremy Guthrie in the defeat, which pulled the series even with Wednesday's finale left to play.
Right now, every moment matters.
"The games have changed," Indians third baseman Lonnie Chisenhall said. "We're so close to having something big happen here at the end of September."
The loss was only the second in the past seven games for the Indians (77-67), who remain 1 1/2 back in the Wild Card race due to the Rays' loss to the Red Sox. The Royals, on the other hand, pulled within 1 1/2 games of the Tribe in the pack of teams trying to chase down Texas and Tampa Bay for one of the two Wild Card slots.
The tipping point on Tuesday night came in the sixth inning.
Following five strong innings, during which McAllister limited the Royals to a solo home run from Alcides Escobar, the right-hander worked Eric Hosmer into an 0-2 count to begin the sixth. Hosmer then proceeded to watch four straight balls sail by to draw a critical leadoff walk.
"I got ahead, did what I wanted to," McAllister said. "And then I maybe nibbled a little bit too much and he didn't chase any of them."
Slugger Billy Butler stepped into the box next and delivered a double down the left-field line, giving Kansas City a prime scoring chance with the game caught in a 1-1 deadlock.
"He was very tough," Royals manager Ned Yost said of McAllister. "Up until that point, he was pretty good."
For the Royals, this was an evening for ending droughts.
Escobar's home run off McAllister in the fifth inning halted the shortstop's homerless run at 467 at-bats, which dated back to April 28. In the sixth inning, Mike Moustakas came to bat after Butler and snapped out of an 0-for-16 slump with a double down the right-field line, scoring two runs to put the Indians behind, 3-1. Salvador Perez followed with an RBI single that padded Kansas City's lead.
It was a four-batter stretch that turned a strong effort into a disappointing one for McAllister, who exited charged with four runs on six hits and three walks in his five-plus innings. It was the third subpar outing in a row for McAllister, who has posted an 8.77 ERA over that span.
"He didn't have his best changeup tonight," Indians manager Terry Francona said. "Early in the game, they were very aggressive, and it kind of helped. They made some first-pitch outs. They hit some balls at people. ... But then he left some balls up in that last inning."
Kansas City found some insurance in the form of a sacrifice fly from Butler in the seventh inning and an RBI single from Escobar in the eighth.
Complicating matters for Cleveland was the fact that it could not get to Guthrie.
Entering Tuesday's meeting with the Tribe, Guthrie had allowed a .328 average to left-handed hitters. Francona stacked his lineup accordingly, putting just one pure right-handed batter in the starting nine. The strategy paid off in the first inning, when Jason Kipnis, Carlos Santana and Michael Brantley churned out three straight singles to put the Royals behind, 1-0.
From there, Guthrie controlled the bleeding.
The Indians' lefty hitters went a combined 9-for-22 (.409) against Guthrie, but he held Cleveland to a 1-for-10 showing with runners on after the first inning. The right-hander created 10 outs courtesy of ground balls, including a trio of rally-killing double plays, in his six innings of work.
"We got some hits, but we didn't bunch them together," Francona said. "And we rolled into a couple double plays. It seemed like we were one big hit from doing some damage. We didn't do damage. We gave ourselves chances in a lot of innings, but couldn't get a big hit to get the ball rolling."
After Guthrie bowed out of the ballgame, Cleveland did what it could to mount a comeback, but ultimately fell short. In the seventh, Yan Gomes and Chisenhall came through with base hits off reliever Kelvin Herrera, and Michael Bourn brought both runners home with a double to left-center field that sailed just beyond a diving Alex Gordon.
That offensive push came too late for the Tribe.
"We weren't getting our money's worth with the hits," Chisenhall said. "Every once in a while, a three-run homer is nice. It took a while to get a run across for us. We scratched a few runs across late in time to get us back in it, answering back their big inning, but it wasn't enough."
Jordan Bastian is a reporter for MLB.com. Read his blog, Major League Bastian, and follow him on Twitter @MLBastian. This story was not subject to the approval of Major League Baseball or its clubs.