Royals back solid Guthrie to snap Cleveland skid
Royals back solid Guthrie to snap Cleveland skid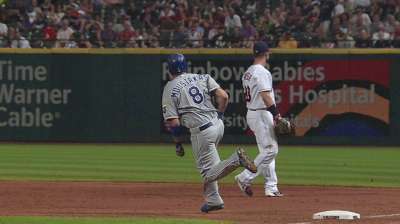 CLEVELAND -- Not much has gone right for the Royals at Progressive Field this season. On a steamy Tuesday evening in Cleveland, the breaks finally went their way, and the timing couldn't have been better.
Both Kansas City and Cleveland are chasing Tampa Bay for the second American League Wild Card spot, with Baltimore and New York firmly in the picture, as well. Powered by contributions from all over the lineup and a strong performance from starter Jeremy Guthrie, the Royals won Tuesday's game over the Indians, 6-3, snapping a six-game losing streak at Progressive Field and evening this week's key series.
"It feels like it's extremely difficult to win a game here," Royals manager Ned Yost said. "Don't ask me why. Because of that, to win a game here, yeah, it was a big win."
While the Royals (76-69) and Yankees both won on Tuesday, the Rays, Indians and Orioles all lost. Kansas City is just three games out of that coveted second Wild Card spot, with 17 left to play. The Royals have won seven of their last 10 games and 12 of their past 17.
On Tuesday, Guthrie (14-10, 4.11 ERA) gave Kansas City six sturdy innings. He allowed nine hits but just one run, finishing with two strikeouts and zero walks. He threw 99 pitches, 64 for strikes, and recorded 10 outs via ground balls. Behind him, the Royals' defense turned three double plays.
"I thought Guthrie did an outstanding job," Yost said, "and the reason I say outstanding is because he pitched and kept us in the game through six innings without his best stuff. ... He did a good job of making pitches when he needed to, but didn't have his best stuff, and that's what starters do. They get you through without their best stuff."
The two teams entered the sixth inning tied at 1. Eric Hosmer led off the frame with a walk, which was followed by doubles from Billy Butler and Mike Moustakas. When Salvador Perez singled in Moustakas, Indians starter Zach McAllister's night was over.
Before his two-run double to right, Moustakas had been 0-for-16.
"I've been pressing a little bit," admitted Moustakas, whose most recent hit had been a walk-off home run last Thursday against Seattle. "I got a good pitch, runners on second and third, and was able to take it down the line for a double."
The Royals got their first run in the fifth inning. To that point, they had managed just one hit off McAllister. Their second hit came courtesy of Alcides Escobar, and it traveled 417 feet down the left-field line for a game-tying homer.
The home run broke a streak of 467 at-bats by Escobar without a homer. He last went deep on April 28, off the Indians' Justin Masterson in Kansas City.
"Big night tonight," Yost said of Escobar, who also followed a triple by David Lough in the eighth with an RBI single. "If we get him going a little bit, that's just going to really help our cause here in the last 17 games."
The Indians (77-67) jumped out to the early advantage. Guthrie began his outing by inducing groundouts from Michael Bourn and Nick Swisher, but he then yielded singles to Jason Kipnis, Carlos Santana and Michael Brantley to put Kansas City down by one run after one inning.
"I had baserunners every inning. I put a lot of pressure on our defense to make big plays," Guthrie said. "Overall, it was a grind, but it was an important win, good win."
After that, the Royals returned fire and eventually gained the lead.
With one out in the seventh against Cleveland reliever C.C. Lee, Butler sliced a fly ball to right field that was deep enough to score Alex Gordon from third, pushing Kansas City's lead to four.
The Indians got two of those runs back against Royals reliever Kelvin Herrera in the seventh. With men on the corners and one out, Bourn slashed a double into the left-center gap that just eluded a diving Gordon.
"I looked up at one point and we had eight hits and one run," said Indians third baseman Lonnie Chisenhall, who went 3-for-3 with a double. "We weren't getting our money's worth with the hits. Every once in a while, a three-run homer is nice. It took a while to get a run across for us. We scratched a few runs across late in time to get us back in it, answering back their big inning, but it wasn't enough."
Following Bourn's double, Herrera made way for Luke Hochevar, who struck out Swisher and Kipnis with 98-mph fastballs. He also struck out the side in the eighth. Hochevar has gone 10 2/3 innings without surrendering a run.
"That's as good as it gets, right there. He's just been unbelievably good for us," Yost said. "I hate to use the word dominant every time he comes out, but he's borderline dominant every time he comes out."
In the ninth, Royals closer Greg Holland picked up his 41st save with little difficulty.
McAllister (7-9, 4.11 ERA) kept Kansas City quiet over the first four innings, but the damage wrought by the Royals in the fifth and sixth turned a strong start into a mediocre one. In five-plus innings, he was charged with six hits and four runs, with three walks and two strikeouts.
The Royals did their job on Tuesday, taking care of the Indians. That Tampa Bay and Baltimore also went down made it all the more satisfying.
"Playing meaningful baseball this late in the season, it's awesome," Moustakas said. "We're going out every night and trying to win a ballgame, and it's a lot of fun."
Mark Emery is an associate reporter for MLB.com. This story was not subject to the approval of Major League Baseball or its clubs.