Walker impressive in first taste of Majors
Walker impressive in first taste of Majors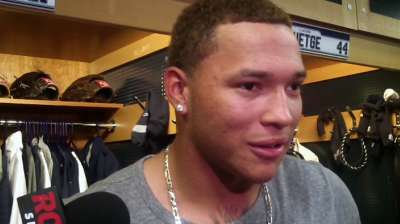 SEATTLE -- Top prospect Taijuan Walker only made three big league starts before the Mariners shut him down for the season, but that was plenty of time for the 21-year-old to impress fans, coaches and players alike. Walker showed off a silky-smooth delivery that made his blistering 97-mph fastball and wrist-breaking curve all the harder to hit.
In his three starts, Walker went 1-0 with a 3.60 ERA, striking out 12 batters in 15 innings. He'll remain with the Mariners for the rest of the season, soaking up the Major League atmosphere and getting to know his teammates.
"Everything now is just about his offseason and planning and preparing for next year," manager Eric Wedge said. "I think it's a good thing to be up here and watch big league baseball and watch his teammates compete and feel good about his year."
Did he pitch well enough to secure a spot in the Mariners' 2014 rotation?
"I think so, but in the end, it's up to them," Walker said. "I just have to go into the offseason and work hard and wait for next year. ... I've been shut down before. It isn't fun to watch everybody else pitch, but I'll do my best to cheer the team on and help them win."
If all goes as planned, it won't be long before Walker is back on the mound in a Mariners uniform, and Seattle fans should expect many chances to watch the young flame-thrower next year.
"No doubt about it," Wedge said.
Jacob Thorpe is an associate reporter for MLB.com. This story was not subject to the approval of Major League Baseball or its clubs.