Van Slyke swats Dodgers closer to NL West title
Van Slyke swats Dodgers closer to NL West title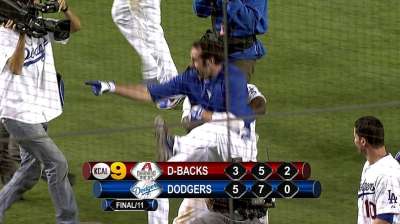 LOS ANGELES -- The Dodgers have a veteran club and several rookies who can help them win games, which should present some tough decisions when the all but certain time comes to set a postseason roster.
Scott Van Slyke came off the bench on Tuesday night to slug a walk-off homer in the 11th inning and send the Dodgers past the D-backs, 5-3, at Dodger Stadium. The victory reduced the club's magic number for clinching the National League West title to six. Los Angeles could secure its first division title in four years as early as Saturday.
"It feels good that it was against Arizona," said Van Slyke, who has ridden the bus between the Majors and Minors all season. "Those are the guys that are chasing us. Any game you can win, especially against them, to further the distance between us is good."
Veteran second baseman Mark Ellis started the rally with a one-out single to right field, and Van Slyke crushed the second pitch he saw from D-backs reliever Josh Collmenter into the left-field seats for his seventh homer in 42 games with the Dodgers this year.
Van Slyke's blast made a winner of fellow rookie Chris Withrow, one of five Dodgers relievers who combined for five scoreless innings on a night when Brian Wilson was unavailable because he was ill. Rookie Paco Rodriguez was in that group, and fired a 1-2-3 seventh.
Withrow retired all four batters he faced to bring his scoreless streak to 4 2/3 innings. The right-hander struck out Arizona slugger Paul Goldschmidt to close out the 11th, resembling a veteran reliever rather than someone who made the switch to the bullpen in the middle of last season. Withrow has become a reliable member of the Dodgers 'pen this year, but he is trying not to think about the postseason roster.
"Ultimately, it's not my decision," Withrow said. "My job is to go out and do anything I can to help us win. At the end of the day, they make the decision."
Edinson Volquez is a veteran starter who is also auditioning for the postseason. Signed by the Dodgers at the end of August after being released by the Padres, Volquez showed improvement in his second start with L.A. He's been working closely with pitching coach Rick Honeycutt to rediscover the form that helped him win 17 games in 2008. Volquez was charged with three runs on four hits with five strikeouts and one walk over six solid innings.
"Tonight everything was great," Volquez said. "Finally I brought everything I was doing in the bullpen with the pitching coach into the game and was consistent in the strike zone. I'm more confident now. My fastball command was better."
Dee Gordon is not a rookie, but he's a September callup who could also benefit the Dodgers in the postseason as a pinch-runner. Gordon ran for Adrian Gonzalez in the 10th after Gonzalez collected his third hit of the game. Gordon stole second, but was stranded at third. The Dodgers saw firsthand what a speedster can do for a contender during their previous series against the Reds, when Billy Hamilton ran wild late in games.
Of course, there are only 25 spots on the postseason roster, and that could result in a decision between Van Slyke and Gordon.
"Who is it?" manager Don Mattingly said. "One guy hits a home run, one guy steals a base."
Andre Ethier tied the game at 3 with an RBI double in the fifth. The outfielder has driven in 24 runs in 48 games in the second half.
Hanley Ramirez walked twice and gave the Dodgers a bit of a scare in the fifth, when he fouled a 3-2 pitch off his left ankle. Ramirez dropped to the ground, and stayed there for a few minutes as assistant athletic trainer Greg Harrel and Mattingly checked on him. But the shortstop stayed in the game, drew a walk and scored on Ethier's double.
While Volquez didn't have great numbers in his first start with the Dodgers -- four runs allowed in four innings last week in Colorado -- the club is intrigued by the progress he's shown.
"He pitched a lot better than it looked in Colorado," Mattingly said. "We knew it wasn't a good matchup."
Volquez cruised through his first three innings, striking out three and surrendering one hit.
"He's got an array of pitches and he's throwing harder now," said D-backs outfielder Adam Eaton.
Volquez allowed one run in the fourth on two singles and a wild pitch. He then walked Gerardo Parra on five pitches to begin the fifth and served up a two-run homer to Didi Gregorius on the next offering. Volquez has allowed 16 homers in 29 starts this season.
After Gregorius went deep, Volquez retired the final six batters he faced. Yasiel Puig, another rookie, helped out his pitcher with a great catch at the wall in right-center to take a home run away from Miguel Montero to end the sixth and preserve the tie.
"I like the way he bounced back in that last inning after giving up the homer," Mattingly said.
Volquez also drove in the Dodgers' first run with a bunt in the second inning, and Puig followed with a forceout that scored Ellis.
Austin Laymance is an associate reporter for MLB.com. This story was not subject to the approval of Major League Baseball or its clubs.