Manto sees progress in young White Sox hitters
Manto sees progress in young White Sox hitters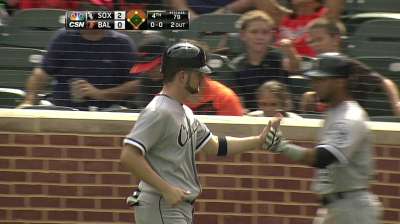 CHICAGO -- White Sox hitting coach Jeff Manto wants to have the same job for the 2014 season.
Manto, who previously served as the Pirates' hitting coach during the 2006 and 2007 campaigns and is under contract to the White Sox for next year, understands his wish won't be automatically granted. General manager Rick Hahn said Monday that the coaching staff will be evaluated after the season, and the White Sox offense has struggled through an overall '13 showing where it sits last in the American League in runs scored.
"I'm signed to come back next year. I'm hoping to be back," Manto told MLB.com before Tuesday's batting practice. "Obviously, it's not up to me, but I'm anticipating coming back.
"I think we did as good of a job as we possibly could. We came with a lot of energy and a positive attitude. And guess what? We fell a little short, but there was a lot to build on and a lot of excitement ahead of us."
Under Manto's guidance in 2012, the White Sox finished fourth in runs scored and third in home runs. Manto doesn't consider that group to have overachieved; he simply believes that was a talented overall squad.
The dismal runs scored ranking this year is joined by only 128 homers as a team, placing the club third from the bottom, and a .303 on-base percentage that is second from last. Manto always has been an exceedingly upbeat individual and tries to look at the good signs from the offense during these trying times.
"It was a great learning year. We had a lot of guys who got better despite the collective numbers," Manto said. "I'm pleased with how the rookies went about their business. I'm pleased with [Dayan] Viciedo coming on strong and [Alejandro] De Aza staying consistent. I'm happy where [Gordon] Beckham is, and Alexei [Ramirez] is up there hitting .280 again.
"So, a lot of positive things came out of there. I look at what Conor Gillaspie did. First time in the big leagues for a full year, and Avisail [Garcia] having a good little run here. There's a lot of things to be positive about, although the numbers would indicate let's beat it up."
When asked for the negatives, Manto quickly points to the team's overall record.
"Those statistics, we want to score more runs," Manto said. "We want to do other things. The bottom line, whether on offense or defense, is you want to win more games. That was most disappointing."
Scott Merkin is a reporter for MLB.com. Read his blog, Merk's Works, and follow him on Twitter @scottmerkin. This story was not subject to the approval of Major League Baseball or its clubs.