Konerko, Ventura remember September 11
Konerko, Ventura remember September 11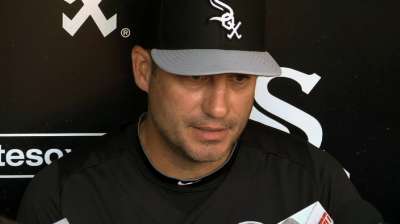 CHICAGO -- Paul Konerko and his White Sox teammates had traveled from Cleveland to New York on the night of Sept. 10, 2001. As the White Sox captain remembers, many of the players were asleep when two planes hit the World Trade Center Towers and killed close to 3,000 people 12 years ago Wednesday.
"Nobody is going to forget what happened that day," Konerko said. "But to be in New York, it was very, a weird place to be, that's for sure. So, no doubt, it's always a story that I have to tell, but it's not exactly you want to tell that one. It was definitely a crazy day and just it seems like it was yesterday."
Konerko remembers a beautiful morning in New York, "not a cloud in the sky," before the atrocities took place. He recounted Tuesday how the players wanted to get out of the Grand Central Hyatt, where they were staying, with it being attached to Grand Central station, and just move out on to the street.
"Me and a couple of guys, we walked all the way down as far as we could go to the Towers," Konerko said. "We got close enough to where you could see smoke and debris and stuff.
"Just basically walk where it had already been hit. We figured that was the safest place to be. The rest of the day was kind of a lot of walking around, and the next morning we were out of there at 6 a.m."
Manager Robin Ventura was playing for the Mets at the time, but the team was in Pittsburgh. By the time they bussed back the next day, Shea Stadium had been turned into a staging area.
"Everything around Shea was filled with supplies, and there was a lot of people coming and going and firefighters that were there coming from all over the country that were kind of staged there and they'd get driven in," Ventura said. "We were around it a lot."
A moment of silence in honor of the National Day of Service & Remembrance will be observed at U.S. Cellular Field prior to Wednesday's game. Much like the Boston Marathon bombing this year, Ventura finds it mindboggling that such acts of terrorism actually can happen, but the nation perseveres through tough times.
"The people who were in charge [in New York] and were helping out and doing stuff, the amount of work that went into it, and the planning and execution of it all is unbelievable," Ventura said. "When you're a player or you're around or know people who, New York, it kind of gets emotional."
Scott Merkin is a reporter for MLB.com. Read his blog, Merk's Works, and follow him on Twitter @scottmerkin. This story was not subject to the approval of Major League Baseball or its clubs.