Cooper working through symptoms of diverticulitis
Cooper working through symptoms of diverticulitis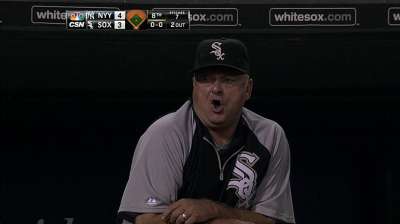 CHICAGO -- White Sox pitching coach Don Cooper missed three games in Baltimore this past weekend because of a second bout of diverticulitis, which cost him 10 games earlier this season. But he wasn't about to miss Monday's contest, not with Chris Sale on the mound.
"I don't even like talking about it other than to educate people who might be having it," Cooper said of his illness. "I can tell you what's going on. I know what happens now when you're going to get it. But I don't enjoy talking about it, simply because there are so many other people who have it so much worse than I have, and I'm not complaining or moaning about what I have."
Cooper has to take care of the issue in the offseason because he doesn't want it creeping up every four months. He said that part of the illness is hereditary, part is getting older and part could be a result of stress. Then again, he pointed out that his competitive desire leaves a pit in his stomach before pretty much every game.
"They say stress, but I don't wake up every morning fretting and I don't fret at the end of every night," Cooper said. "It's unfortunate what we're going through this year, but I accept that like I accept the diverticulitis. If it comes my way, I'll deal with it. And we'll try to make it better."
Scott Merkin is a reporter for MLB.com. Read his blog, Merk's Works, and follow him on Twitter @scottmerkin. This story was not subject to the approval of Major League Baseball or its clubs.