Royals finding postseason success in Minors
Royals finding postseason success in Minors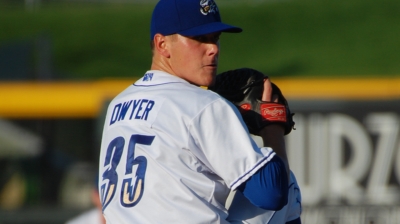 CLEVELAND -- While the Royals continue making their best effort to reach the postseason, a couple of the organization's Minor League affiliates are already there.
On Tuesday, the Triple-A Omaha Storm Chasers hosted the Angels' Triple-A affiliate, the Salt Lake Bees, in Game 1 of the Pacific Coast League Championship at Werner Park, although the game was suspended in the second inning due to the weather and will resume on Wednesday. That same day, Game 2 of the Pioneer League South Divisional Playoff between Kansas City's Rookie-level affiliate, the Idaho Falls Chukars, and the Grand Junction Rockies was postponed, setting up a doubleheader for Wednesday.
The Chukars capitalized on eight Grand Junction errors on Monday to win the first game of the best-of-three series.
Royals manager Ned Yost is most focused on his own team's fortunes, but he's well aware of the position the Omaha and Idaho Falls clubs have put themselves in.
"I'm very pleased," Yost said. "Winning is a great experience, so wherever you can get it only helps us up here. When those young players get up here, they've been through a winning situation. It's always funny. It doesn't matter if you're in little league, it doesn't matter if you're in college, high school, if you're in professional baseball, winning is a great experience, and it means a lot. There's no substitute for it."
In Tuesday's championship opener, the Storm Chasers sent southpaw Chris Dwyer, ranked by MLB.com as the Royals' No. 11 prospect, to the mound against Salt Lake right-hander Matt Shoemaker. Both pitchers had allowed a run before play was suspended.
Mark Emery is an associate reporter for MLB.com. This story was not subject to the approval of Major League Baseball or its clubs.