Starters' success crowding Blue Jays' bullpen
Starters' success crowding Blue Jays' bullpen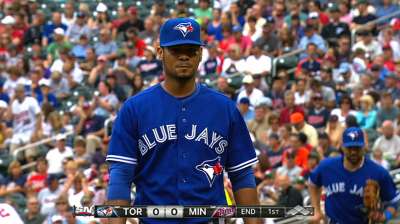 TORONTO -- With just 19 games remaining entering Tuesday's contest with Angels, there probably will not be a lot of playing time for pitchers like Ricky Romero and Kyle Drabek.
Drabek and Romero are starters, but with an off-day Monday and the pitching rotation playing the way it has, there have been limited opportunities for the duo.
Toronto starters combined to go 10-2 with a 2.44 ERA over 13 outings entering Tuesday, including 10 straight games allowing three earned runs or fewer. They were averaging just shy of 6 1/3 innings, meaning there have been fewer opportunities for the bullpen.
"Early on when our starters were struggling, there was plenty of opportunities, but they've been on a pretty good roll," manager John Gibbons said. "We don't know how the final week to 10 days, two weeks, will stack up anyways. But as of right now, we're just going to roll these five guys."
That means Todd Redmond and Esmil Rogers will continue to see starts ahead of Drabek and Romero.
The club would like to see all of its pitchers get into some games, but for the handful of starters who got called up from Triple-A Buffalo when the rosters expanded, that will most likely come only in games in which there is a blowout one way or the other.
Drabek's first and only appearance came with the club up, 8-2, over the Twins on Saturday, and that appears to be the club's strategy moving forward.
"If your starter has a good outing, you try to close out the game; you owe that to those guys, too," Gibbons said. "So you go with those guys that fill those roles."
What that means for Romero and Drabek moving into 2014 is unclear, but the club's commitment at the moment is with its current starters.
"You want to get [Mark] Buehrle to those 200 innings," Gibbons said. "He's on a nice little roll right now. Let him run the string out. [R.A.] Dickey's pitching well. Rogers is coming off back-to-back good starts. Redmond has been good."
Add in the fact that J.A. Happ will continue to be rolled out every five days after missing three months of the season, and there are not a whole lot of innings to be had between the other 13 guys in the bullpen.
Evan Peaslee is an associate reporter for MLB.com. Follow him on Twitter at @EvanPeaslee. This story was not subject to the approval of Major League Baseball or its clubs.