After long West Coast trip, Rays glad to be home
After long West Coast trip, Rays glad to be home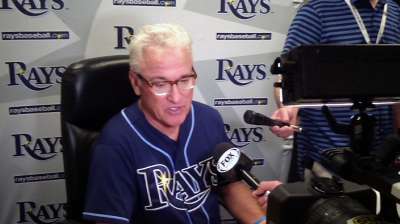 ST. PETERSBURG -- The Rays returned to Tropicana Field for the first time this month Tuesday and will play 11 of their next 14 games on their home turf.
These home-heavy two weeks could not come at a better time for a team that went 3-7 on its recent West Coast road trip.
"It's always great to be home," manager Joe Maddon said. "We had been a better West Coast team in the last couple years. We're not comfortable out there. It happens. Those two trips have hurt us a little bit, but we're home. We've played pretty well in this building."
After going 0-5 on a West Coast trip in August, the Rays rebounded by winning five of their next nine home games.
"It's always good to be home," third baseman Evan Longoria said. "I anticipate our fans will be out in full effect today. I think they're just as excited as we are to be home and in the middle of things in the middle of September. This is the time of year you want to be playing meaningful games. It will be a good experience for all of us."
Tampa Bay is 44-26 at home compared to 34-38 on the road. The Rays' home record (295-108) since 2008 is the second-best mark in Major League Baseball.
Bill Chastain is a reporter for MLB.com. Sam Strong is an associate reporter for MLB.com. This story was not subject to the approval of Major League Baseball or its clubs.