Harper takes BP, plans to return to lineup tonight
Harper takes BP, plans to return to lineup tonight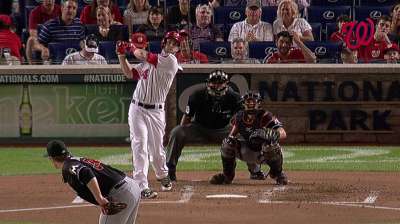 NEW YORK -- Nationals outfielder Bryce Harper returned to the club on Tuesday and was seen taking batting practice without any problems.
According to manager Davey Johnson, Harper will be back in the lineup Wednesday against the Mets. Head athletic trainer Lee Kuntz reiterated that the MRI on Harper's left hip was negative.
"We are going to treat it as inflammation," Kuntz said. "I'm trying to keep an eye on him right now. If he works out here and is able to do everything we ask him to do and he is OK, I'll talk with the manager and go from there."
Harper was relieved to learn that his hip injury wasn't considered serious.
"It's good to get a clear mind on what was happening, why I was hurting," Harper said. "Hopefully, I can get through these [next] 20 games and see how I feel at the end [of the regular season]."
In order for Harper to get back in the lineup, he was tested by running in the outfield and taking batting practice. During the session, Harper hit the "Wise Snacks" sign behind the right-field wall at Citi Field.
"Running has not been that much of a problem," Kuntz said. "Most of the time, it would be when he was swinging when it became really bothersome for him. Right now, he looks good."
The team doesn't know how Harper injured his hip, but Kuntz said, "It's an overuse injury. Over time, it bothered him more and more to the point where he finally fessed up and said it bothered him. I don't have a single incident I can pin it on."
Harper doesn't know how he hurt the hip either, but he started to feel pain when the Nationals were playing the Tigers in late July.
"I was in Detroit," Harper said. "That's when I probably aggravated it a little bit. That's about it."
Harper has endured an injury-plagued 2013 season. He missed more than a month of action after banging his left knee into the right-field wall at Dodger Stadium on May 12.
"It has been a [tough] year from that aspect. ... It wasn't a lot of fun," Harper said. "Hopefully, I don't hit as many walls next year. Maybe I'll learn from that. It's just the way I play. Maybe I have to mellow it down and try to play 162 games, 150 games. Let's see where I'm at.
"I'm going to play these [next] 20 games as hard as I can."
Bill Ladson is a reporter for MLB.com and writes an MLBlog, All Nats All the time. He also could be found on Twitter @WashinNats. This story was not subject to the approval of Major League Baseball or its clubs.