Missed opportunities cost Mets in loss to Nats
Missed opportunities cost Mets in loss to Nats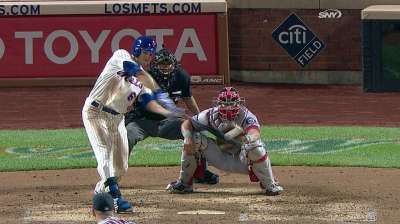 NEW YORK -- Down one run with one out in the bottom of the seventh, the Mets had their quickest runner on first base. Eric Young Jr., who entered the game with 36 steals this season, took off for second looking to steal his way into scoring position. Nationals catcher Wilson Ramos came up firing, nailing Young to ruin the Mets' attempt at tying the game.
Ramos had already thrown one New York runner out. That didn't matter. The Mets were desperately trying to make something happen.
"Two situations where we thought we needed to start something," Mets manager Terry Collins said.
Washington, though, has turned Citi Field into its personal launching pad over the last two games to send the Mets to back-to-back losses. The Nationals, who hit five home runs on Monday, hit three more on Tuesday in their 6-3 win over New York. The Mets have lost seven of their last nine games.
The Nationals jumped on Dillon Gee and built themselves an early lead.
The right-hander allowed a solo home run to Jayson Werth in the first inning, and then another to Adam LaRoche in the second that put Washington up, 2-0. Werth, who went 3-for-4 on Tuesday and has four straight multihit games, added to the Nationals' lead with an RBI double in the third.
"Obviously, I wasn't commanding the ball as well as I have been," Gee said. "You can't get away with that against these guys. They made me pay."
It was an uncharacteristically shaky outing for Gee, who entered Tuesday's game with a 1.94 ERA in his last 10 starts dating back to July 14. The right-hander allowed four runs on nine hits with no walks and five strikeouts over 6 1/3 innings.
Gee had pitched well against Washington this season, going 4-1 with a 2.16 ERA. On Tuesday, the Nationals solved him.
"He has been a mystery," Werth said. "... It's not like he pitched that bad against us. He's tough."
New York cut the Nats' lead to two in the fourth inning, when Daniel Murphy led off with a ground-rule double off Washington starter Jordan Zimmermann and then scored on an RBI single by Justin Turner.
But Washington answered back in the sixth with what ended up being the decisive run. Werth led off with a double, and Ramos drove him in with a single three batters later to give the Nationals a 4-1 lead.
"That proved key in that situation," Gee said. "Like I said, it was just a little bit up and he put a good swing on it, put it in left field and that's where we lost the game."
The Mets' offense finally showed some more life in the sixth inning. An offense that mustered only one hit a night earlier started to build a comeback.
Lucas Duda singled to right field, and Turner -- who left the game in the seventh inning with tightness in his right hamstring -- doubled to put runners at second and third. Matt den Dekker, a 26-year-old outfielder who the Mets hope is part of their future, drove in both runners with a single to left-center field to make it a one-run game.
But that was the end of the Mets' comeback attempt.
den Dekker nearly tied it in the bottom of the eighth, hitting a fly ball to deep right field. But it fell a few feet short of the wall and settled into Werth's glove.
"Matt's going to be a good player," Collins said. "The more he plays, the more comfortable he's going to be."
Scott Hairston belted a pinch-hit two-run homer off Tim Byrdak in the ninth to give the Nationals some insurance.
Through the first five innings, the Mets continued to miss opportunities with runners in scoring position. Travis d'Arnaud grounded out with a runner at second base in the second inning. Omar Quintanilla was stranded at third base in the third. Quintanilla flew out with runners at first and second in the fourth. The Mets stranded Young at third in the fifth.
All told, New York went 2-for-9 with runners in scoring position. For a team that lacks power, those missed opportunities proved costly.
The Mets tried to be aggressive on the bases. They tried to construct a late-game comeback. Right now, not much is going right offensively.
"We certainly aren't hitting the ball out of the ballpark," Collins said, "so we had to do something to get in scoring position."
Chris Iseman is an associate reporter for MLB.com. This story was not subject to the approval of Major League Baseball or its clubs.