Perez's win streak halted as Texas falters in clutch
Perez's win streak halted as Texas falters in clutch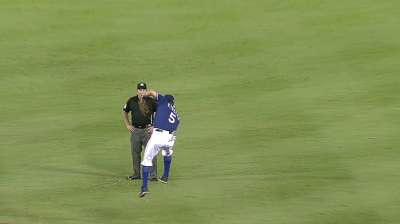 ARLINGTON -- Martin Perez's six-game winning streak has come to an end, but Adrian Beltre's stunning inability to deliver with runners in scoring position continues unabated.
So does the Rangers' September slump and the only consolation after their latest loss is that it did not cost them either in the American League West or in the increasingly important AL Wild Card playoff race. The Rangers still have a four-game cushion in the Wild Card race despite a 5-4 loss to the Pirates at the Ballpark in Arlington on Tuesday night.
The more pressing matter is staying within striking distance of the Athletics in the AL West. The Twins rallied to beat the Athletics, 4-3, in Minnesota, so the Rangers remain two games back with 18 to play after their eighth loss in their last 11 games.
"No one said this was going to be easy, no one said this was going to be a cakewalk," catcher A.J. Pierzynski said. "We've just got to fight. We've got 18 games left. I like our chances, I like where we are and I like our team."
The Rangers trailed, 4-1, after five innings before they came up one big hit short in the eighth and ninth innings when they had a chance to either tie the game or go ahead. But the frustrating night came to an end when Beltre, batting with two outs and runners at the corners in the ninth, struck out on three pitches to end the game.
Beltre had two hits on the night, including an RBI single in the eighth. But he has two hits in his last 24 at-bats with runners in scoring position. His strikeout was one of two in key at-bats for the Rangers that kept them from overcoming Perez's rough start and complete their comeback.
"We grinded all night, it was just a matter of getting a base hit in the right situation," manager Ron Washington said. "The ninth inning we strung some hits together and put ourselves in a position and we just didn't get the hit. That's what it comes down to. If you look at all the other games, too, it just came down to getting a base hit at the right time and we just haven't been able to put it together yet."
Trailing 1-0 going into the top of the fifth, Perez was brought down by four straight two-out hits and a wild pitch after he had retired the first two hitters in the inning. That led to three runs as opponents are hitting .326 off him with two outs and runners in scoring position.
"I think location," Perez said. "I missed a couple pitches out of the zone and left a couple up, and that's why they got base hits."
The Rangers still had their chances late. The first big at-bat came in the eighth. Texas trailed, 4-1, going into the inning and Pittsburgh reliever Jason Grilli retired the first two hitters. Then Alex Rios doubled and Beltre brought him home with a single, making it a two-run game.
Pirates manager Clint Hurdle brought in left-hander Tony Watson to face Pierzynski for a lefty vs. lefty matchup. But Pierzynski doubled down the right-field line, moving Beltre to third. That brought up Jeff Baker, a right-handed hitter and a .333 hitter against left-handers with power.
But Hurdle stayed with Watson, who had been holding right-handers to a .201 average. Baker fell behind 0-2, fouled off three pitches and then missed a 94-mph fastball that brought the inning to an end.
"I faced the guy a bunch when I was with the Cubs and I know how he was going to attack me," Baker said. "I just swung at a bad pitch ... chased a pitch. If I get in the same situation again, I'll take my chances, go up there with confidence and give it my best shot."
"We got him with a fastball up," Pirates catcher Tony Sanchez said. "We'd been pounding him in ... tried to go change up down and away, he fouled it off. Got the fastball up, for the strikeout. That guy may be tough on left-handers, but Tony isn't just any left-hander."
The Pirates added an extra run in the ninth. Robbie Ross walked leadoff hitter Neil Walker, the Rangers misplayed a sacrifice bunt situation and Andrew McCutchen singled home a run -- his third RBI single of the night -- to make it 5-2.
Mark Melancon took over in the ninth and struck out the first two. Then the Rangers launched one last comeback. Leonys Martin singled, went to second on defensive indifference and scored on a single by Ian Kinsler. Singles by Elvis Andrus and Rios brought home another run and left runners on first and third. That brought up Beltre and Melancon struck him out on three pitches.
"Just kept throwing him fastballs," Melancon said. "I don't know if he was sitting on a breaking ball."
"We know what his track record is, we know what he's capable of doing," Washington said. "Right now, the game is finding him and he's challenged. He's the kind of guy who always rises to a challenge, so I'm looking forward to him coming back."
T.R. Sullivan is a reporter for MLB.com. Read his blog, Postcards from Elysian Fields, and follow him on Twitter @Sullivan_Ranger. This story was not subject to the approval of Major League Baseball or its clubs.