Willingham's home runs lift Twins, haunt A's
Willingham's home runs lift Twins, haunt A's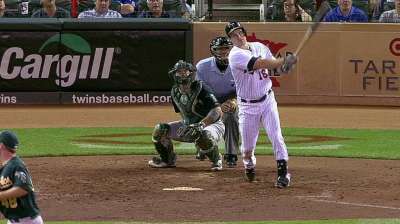 MINNEAPOLIS -- Twins manager Ron Gardenhire tried everything he could to get Josh Willingham going.
The skipper benched him for two straight days leading up to Tuesday night's game against the A's, then put him back in left field for the first time since Aug. 31 and batted him sixth -- the lowest he's batted in the order since 2009.
And it all worked to perfection, as Willingham made his former team pay by crushing a pair of homers, including a go-ahead two-run blast in the eighth inning to lead the Twins to a 4-3 win at Target Field.
"We need to get these guys going and we talked about that with Willy, giving him a couple days and then putting him in left field instead of DHing, and he obviously felt a little better," Gardenhire said. "So that was nice to see because he needed to get a smile on his face. It's been a battle for him."
Gardenhire gave the credit to Willingham for asking to be moved down in the lineup, as he told his manager that he didn't feel worthy of the honor of hitting cleanup because he entered the game hitting just .203.
Instead, Gardenhire made Oswaldo Arcia his cleanup hitter, and he also came through with a solo shot in the sixth, which caused Gardenhire to joke about his decision-making.
"He hit a homer, too, so maybe I should've done that a long time ago," Gardenhire said with a smile.
Willingham, who hadn't homered since Aug. 13, started off the scoring with a solo shot in the second inning. His two-run homer came off A's reliever Ryan Cook with one out, and was just the second homer given up on the year by Cook.
It improved Willingham's batting average to .405 with seven homers and 17 RBIs against the A's since the start of last year, when he joined the Twins after a season in Oakland. It was also Willingham's 14th career multi-homer game and first since May 23 at Detroit.
"It doesn't happen often," Willingham said. "The first one was a breaking ball up a little bit and the second one was a 2-0 fastball, and I'm sure he didn't want it right over the plate but that's where it was, and I hit it well."
The comeback win came on a night when Liam Hendriks was solid early, starting with four scoreless innings, but he ran into trouble in both the fifth and sixth innings. Hendriks gave up three runs on seven hits and no walks with six strikeouts over 5 1/3 innings.
"I felt pretty good," Hendriks said. "I would've liked to go longer and I would've took two pitches back, but we ended up with the win."
Hendriks was particularly hurt by two hit by pitches, including in the fifth when he plunked Yoenis Cespedes with a first-pitch fastball to open the inning. The A's quickly capitalized, as Alberto Callaspo promptly deposited a 1-0 fastball into the right-field stands for a two-run blast.
Hendriks labored again in the sixth, giving up a leadoff single to Josh Donaldson before plunking Brandon Moss on a 1-2 fastball with one out. Just three pitches later, Cespedes came through with an RBI single to score Donaldson.
The RBI single from Cespedes chased Hendriks from the game, as he was removed in favor of left-hander Caleb Thielbar. Thielbar was able to get out of the inning with the help of Alex Presley in center field, as he caught a deep fly ball from Callaspo and threw out Cespedes as he tried to tag up to second base for a rare 8-6 double play.
A's right-hander Jarrod Parker was able to pitch his way out of a several jams, but he was stuck with a no-decision despite exiting with the lead. Parker went six innings, surrendering two runs on seven hits and three walks with four strikeouts.
"I thought he pitched great," A's manager Bob Melvin said. "When you're rolling up game after game like he is and you're not giving anything up, sometimes when you give up a run or two it doesn't look like your best performance."
The Twins got out to an early lead in the second inning on a solo homer from Willingham, who ended a span of 78 at-bats without a homer. But they didn't score again until the sixth, when Arcia crushed a solo blast of his own into the second deck in right field.
Right-hander Anthony Swarzak tossed a scoreless eighth to pick up the win on his 28th birthday while closer Glen Perkins threw a scoreless ninth to get his 34th save. But it wouldn't have been possible without Willingham's go-ahead homer in the eighth.
"He had a heck of a game," Hendriks said. "He likes playing against the teams he used to play for. Hopefully, we can continue that this series and play spoiler a little bit."
Rhett Bollinger is a reporter for MLB.com. Read his blog, Bollinger Beat, and follow him on Twitter @RhettBollinger. This story was not subject to the approval of Major League Baseball or its clubs.