A's beaten by Willingham's pair of home runs
A's beaten by Willingham's pair of home runs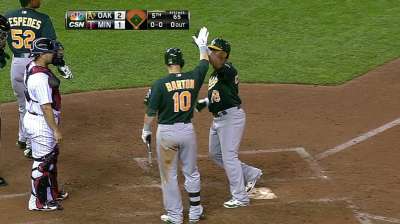 MINNEAPOLIS -- If you make a mistake to a hitter who's locked in, you're usually not going to get away with it. A's pitchers found that out when they faced Josh Willingham on Tuesday night, and it cost them a win.
The Twins outfielder continued to attack Oakland pitching, belting the second of his two homers off the bullpen in the eighth inning to hand the A's a 4-3 loss at Target Field.
The A's (83-61) maintained their two-game lead in the American League West standings with the Rangers' 5-4 loss to the Pirates on Tuesday night.
Willingham has hit seven homers in 10 games against the A's since the start of the 2012 season -- including the go-ahead two-run shot off reliever Ryan Cook (6-4) in this one. It was only the second home run allowed by Cook in 63 appearances this year, and it cost Jarrod Parker a shot at win No. 12 on the season.
"He just gives up very few home runs," manager Bob Melvin said of Cook. "That's his job, that's what he does and he does it really well. And he gave up a home run today, period."
Oswaldo Arcia led off the eighth inning with a base hit off reliever Sean Doolittle. One out later, Willingham greeted Cook with a 439-foot blast into the second deck in left that scored pinch-runner Clete Thomas and left Cook shaking his head in disbelief.
"I didn't execute a pitch … that's what happens with good hitters," Cook said. "I literally threw the ball right down the middle and he did what he's supposed to do with it. I just missed my location -- I don't know what to tell you. I felt fine mechanically. I'm not going to sit here and [lie] about something that isn't the truth. I missed my spot and he hit it."
Parker -- who has not lost since May 22, a span of 19 starts -- was in position to win before Willingham's late heroics. He gave up two long home runs, both solo shots, but he held the Twins to an 0-for-6 log with runners in scoring position, continuing Minnesota's season-long struggle in those situations.
"I thought he pitched great," Melvin said. "When you're rolling up game after game like he is and you're not giving anything up, sometimes when you give up a run or two it doesn't look like your best performance. But again, 100 pitches, six innings, we're ahead when he leaves -- I'll take that."
The sixth inning was a perfect example of the kind of night it was for the Twins against Parker. Arcia cut the A's lead to 3-2 when he drilled a 1-1 changeup into the second deck in right-center, a 438-foot blast for his 11th homer of the season.
The Twins then loaded the bases on a Ryan Doumit single and two walks. With Parker's pitch count at 97 and two relievers ready in the bullpen, Melvin visited the mound but opted to stick with his starter. Parker rewarded his faith by getting Pedro Florimon to ground into an inning-ending double play, preserving Oakland's one-run lead.
"We were just making sure we know what we're doing, where the ball needs to go." Parker said. "He said, 'Let's try to get a ground ball,' and we got it. It's one of those things where we had a pretty good plan, and to execute and get the ground ball on a guy that's pretty fast and to turn it was a pretty big turn."
Liam Hendriks struck out five A's through four shutout innings, but he coughed up a 1-0 lead in the span of three pitches to start the fifth. He plunked Yoenis Cespedes on the left elbow with his first pitch of the inning, and then Alberto Callaspo drove a 1-0 fastball deep to right for his seventh homer of the season, his second with the A's and first since Aug. 18.
Cespedes added to the A's lead with an RBI single in the sixth, but he ran them out of a chance at a bigger inning when he was gunned down at second base by center fielder Alex Presley trying to advance on Callaspo's fly ball. That miscue ended the inning with Brandon Moss stranded on third.
Four Twins pitchers combined to throw 3 2/3 scoreless innings in relief of Hendriks. Winner Anthony Swarzak (2-2) pitched a 1-2-3 eighth and closer Glen Perkins fanned two in a perfect ninth for his 34th save in 38 chances.
The Twins took a 1-0 lead in the second inning when Willingham hit his 13th home run of the season. Parker hung a slider on a 1-1 pitch that Willingham deposited into the Twins' bullpen 422 feet away in left-center field.
That continued a trend for Willingham, who has teed off on A's pitching since leaving Oakland for the Twins before last season. In nine games last year he went 13-for-34 with five home runs and 14 RBIs. Tuesday's homers were his first since Aug. 13, a span of 78 at-bats.
"I was happy to square up a couple of balls tonight and help us win," said Willingham, who posted his 14th career multi-homer game, including his second of the season. "It doesn't happen often. The first one was a breaking ball up a little bit and the second one was a 2-0 fastball and I'm sure he didn't want it right over the plate, but that's where it was and I hit it well."
Patrick Donnelly is a contributor to MLB.com. This story was not subject to the approval of Major League Baseball or its clubs.