Zimm wins NL-leading 17th as Nats gain in Wild Card
Zimm wins NL-leading 17th as Nats gain in Wild Card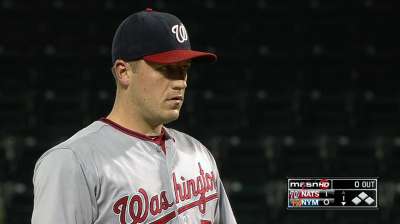 NEW YORK -- The Nationals continue to gain ground in the Wild Card standings as they defeated the Mets, 6-3, at Citi Field on Tuesday night. The Nationals are now six games behind the Reds -- five in the loss column -- for the second and final National League Wild Card spot.
The Cubs pounded the Reds for the second consecutive night, this time by the score of 9-1 at Great American Ball Park.
"If we win out, I like our chances," Nationals manager Davey Johnson said. "The pitching has got to be better. The bullpen, at times, has been real shaky, but I like where we are at. I think we are five games in the loss column. ... That's the biggest key going down the stretch."
Nationals right-hander Jordan Zimmermann won his NL-leading 17th game of the season, but it wasn't easy as he lasted five-plus innings, allowed three runs on eight hits and struck out four batters.
"It was OK. I didn't have very good command on any pitch," Zimmermann said. "The first couple of innings were good and then I lost everything. I couldn't get ahead with the fastball. I fell behind and I had to come back with the fastball, and that's when they were getting most of their hits."
The Nationals gave Zimmermann a 3-0 lead after three innings against right-hander Dillon Gee, a pitcher who was 4-1 with a 2.16 ERA against Washington this season entering Tuesday's action. Gee allowed four runs in 6 1/3 innings.
"This was the one night where I didn't think the command of his changeup was what we've been seeing lately," Mets manager Terry Collins said. "Balls were up in the middle of the plate. These guys are hitting them out of here like this is a bandbox; we know it's not. When they can hit them that good, you know you're making some pitches in some bad spots."
In the first inning, Jayson Werth swung at an 0-1 pitch and hit the ball over the left-center-field wall for his 23rd home run of the season. He ended up going 3-for-4 to raise his batting average to .328, which is top three in the NL.
Asked what winning a batting title would mean to him, Werth said, "At this point, nothing. I'm trying to win ballgames, [but] I'm not stupid."
An inning later, Adam LaRoche made it a 2-0 game by hitting an opposite-field home run over the left-center-field wall.
In the third inning, Nationals outfielder Denard Span extended his hitting streak to 21 games. Span led off the inning, swung at an 0-1 pitch and doubled down the right-field line. Span later scored on a double by Werth.
The Mets plated a run off Zimmermann in the fourth inning, when Daniel Murphy scored on a single by Justin Turner.
In the sixth, Werth, who led off with a double, scored the Nats' fourth run on a single by Wilson Ramos.
The Mets made it a one-run contest in the bottom of the inning. Lucas Duda and Turner scored on a single by Matt den Dekker, which chased Zimmermann from the game.
With the tying run on base and reliever Craig Stammen on the mound, Ramos threw out den Dekker, who was trying to steal second. In the next inning, with Drew Storen on the mound, Ramos threw out Eric Young Jr., who was also trying to steal second.
"I'm working on my defense a lot. My arm feels good right now. I know those guys can run pretty good," Ramos said. "I try to move my feet quickly and put the ball in the air and see what happens. The pitchers [helped me throw those runners out]."
Stammen felt he really didn't do much to get den Dekker at second base. He gave all the credit to Ramos.
"It was the right pitch. I threw a fastball, so it gave him a little extra time and it kind of bailed us out a little bit," Stammen said.
Outfielder Scott Hairston gave the Nationals the necessary insurance runs by belting a pinch-hit two-run homer in the ninth to give Washington a three-run cushion.
"I think any runs in the late innings are very important. I was just happy to contribute tonight," Hairston said. "I think our pitching kept us in the game. We made defensive plays as well."
A quartet of relievers -- Stammen, Storen, Tyler Clippard and Rafael Soriano -- blanked New York after Zimmermann departed as the Nationals won their 75th game of the season. The Nationals have turned it up a notch in the last month, going 21-9 in the last 30 games.
"We kind of waited around too long," Werth said. "I even said it during Spring Training. I expected us to come out a little flat with how things went last year, being as young as we are, expectations that guys never had to deal with. But I didn't expect it to go as long as it did. But going forward, you expect to see this team together a long time. We're good. We just didn't play that good early on. It's not over. We were in a bad spot. That's for sure."
Bill Ladson is a reporter for MLB.com and writes an MLBlog, All Nats All the time. He also could be found on Twitter @WashinNats. This story was not subject to the approval of Major League Baseball or its clubs.