Maddon not leaning on history as motivation
Maddon not leaning on history as motivation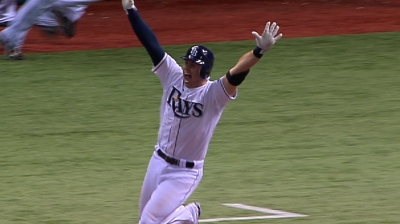 ST. PETERSBURG -- The Rays entered Tuesday night's game vs. the Red Sox facing 20 games in the next 20 days to finish the season. That scenario prompted reporters to ask manager Joe Maddon to revisit history. Specifically, how did he think his team's past experience might help them down the stretch this season.
At this same juncture in 2011, the Rays were 6 1/2 games behind Boston for the American League Wild Card and they went 13-7 the rest of the way to win the Wild Card in dramatic fashion on the season's final day.
Maddon immediately downplayed any significance that can be drawn from the team's past success.
"There's a lot of new guys, so a lot of guys who actually lived that moment are not here," Maddon said. "And I'm not one to always talk about the past and try to conjure up those kinds of comparisons. And, again, it's a new group of guys.
I just want to focus on tonight's game. Price vs. Buchholz. Once you start looking at the larger, clumpy things, it can get away from you.

- Joe Maddon (@RaysJoeMaddon) September 10, 2013
"They've not really felt that yet. My biggest concern and my main thought is to keep those who have not been in that moment to understand what it's like and to be able to function. You have to function well in these moments. So that's what I'm looking for among our group."
Maddon allowed that there is not a lot he can do as the manager to help make his team relax and perform up to their capabilities.
"The only thing I can do is try and set an example, visually, of how I am," Maddon said. "Because I really don't like to verbalize that."
Maddon firmly believes that doing less is a better approach at this point of the season, particularly when it comes to perusing scouting reports, doing video work or saying anything.
"The less everything right now is so much more than more," Maddon said. "There's not much more else to talk about. There's no more technique to be refined. It's pretty much about competing against the other side.
"It's pretty much wanting to win more than the other guy. That's what it comes down to -- and really enjoying the moment and staying in the moment. I really refrain from grandiose speeches to anybody. I might talk to a guy, a little jab in and out thing, rather than trying to be brilliant. First of all, I'm not, so why even try. I really think you can confuse people right now."
Bill Chastain is a reporter for MLB.com. Sam Strong is an associate reporter for MLB.com. This story was not subject to the approval of Major League Baseball or its clubs.