Teheran solid as Braves get closer to division title
Teheran solid as Braves get closer to division title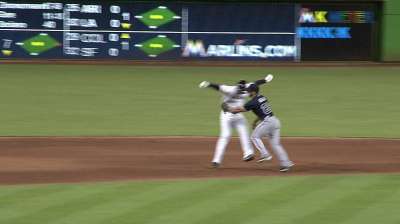 MIAMI -- Julio Teheran had to first erase the rust that had developed courtesy of the extra rest he was given to prepare for the postseason. But as he progressed through his latest start, the Braves rookie once again showed the poise that could prove beneficial when October arrives.
Teheran rebounded from a rocky first inning in impressive fashion and benefited from the contributions a suddenly rejuvenated Evan Gattis provided as the Braves took another step toward clinching the National League East with Tuesday night's 4-3 win over the Marlins.
"[Teheran] didn't buckle," Braves manager Fredi Gonzalez said. "I think last summer or two summers ago, that inning becomes a bigger inning or he can't bounce back. He was terrific."
With wins in the first two games of this four-game series, the Braves have distanced themselves from the four-game losing streak they brought to Miami and moved closer to the opportunity to pop champagne bottles. Their magic number to clinch the division is seven.
This latest victory concluded with yet another scoreless ninth inning completed by Craig Kimbrel, who has converted 35 consecutive save opportunities and compiled an absurd 0.19 ERA while allowing just one earned run in his past 46 appearances. But it's safe to say this bizarre ending was certainly different than normal.
After allowing a one-out double to Placido Polanco, who was replaced by pinch-runner Jake Marisnick, Kimbrel stuck out Chris Coghlan to set up a matchup against Ed Lucas, who was bidding for his third hit of the night against the Braves, who had opted not to put him on the big league roster after he impressed during Spring Training two years ago.
But the showdown against Lucas abruptly ended when Kimbrel's first-pitch fastball skipped to the backstop and bounced back to Brian McCann, who alertly threw to third base to begin a game-ending rundown that left Marisnick the unfortunate victim of what the Braves considered a fortunate bounce.
"I can't believe it bounced back to him like that," Lucas said. "It couldn't have been any more perfect."
The bizarre conclusion preserved the effort provided by Teheran, who was making his first start since beating the Marlins on Aug. 30. The Braves had opted to skip his last turn in an effort to refresh him, as he nears the end of his first full Major League season and prepares for the postseason.
Teheran did not necessarily show his gratitude early, as he squandered a two-run lead by allowing the Marlins to score three runs during a 27-pitch first inning. But the 22-year-old righty quickly righted himself and allowed just two more hits over the remainder of his 6 2/3 innings.
"The first inning, I was feeling a little bit weird after having the long rest," Teheran said. "But at the same time, I felt fresh and my arm was feeling good. It was just one bad inning."
When Lucas ended Teheran's night with a two-out single that put runners at first and second base with two outs in the seventh inning, Luis Avilan made things interesting by hitting Christian Yelich with a 2-2 pitch to load the bases. But Luis Ayala calmed the storm when he entered and struck out Giancarlo Stanton on three pitches.
"It really was the biggest out of the ballgame for us," Gonzalez said, while praising the often-overlooked Ayala, who has allowed hits to just two of the past 21 batters he has faced.
Extending the success he has had since he returned last week from a three-day stint with Triple-A Gwinnett, Gattis fueled Atlanta's two-run first inning with an RBI double and drove in another run with a single in the two-run third inning that provided Teheran a lead he would not squander.
Gattis and McCann drove in Atlanta's first two runs with consecutive two-out doubles in the first inning. Marlins starter Tom Koehler's struggles resumed when he allowed singles to Justin Upton, Freeman, Gattis and Chris Johnson before recording his second out in the decisive two-run third.
"He's getting some great opportunities and he's not missing," Gonzalez said of Gattis, who has batted .346 (9-for-26) with a .808 slugging percentage since returning from Gwinnett.
After being handed a two-run lead before throwing his first pitch, Teheran surrendered two soft singles, issued a walk and allowed a Stanton double before recording his second out of the night. His first-inning damage would have been limited to two runs had Andrelton Simmons not made an uncharacteristic errant throw to first base on a potential inning-ending double play.
Teheran has compiled a 2.45 ERA in the nine starts since the All-Star break. His overall 3.05 ERA would rank as the best recorded by an Atlanta rookie with at least 25 starts in a season.
"I was feeling good after that [first] inning and I was trying to do the same thing that I've been doing," Teheran said. "I was trying to be aggressive with the hitters and show everything I have."
Mark Bowman is a reporter for MLB.com. This story was not subject to the approval of Major League Baseball or its clubs.