Porcello's first complete game boosts Tigers' lead
Porcello's first complete game boosts Tigers' lead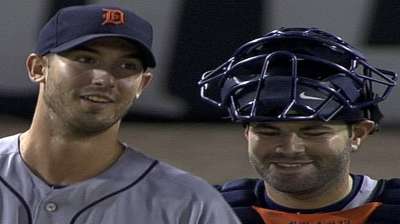 CHICAGO -- For a split second after Avisail Garcia swung and missed for the final out in Tuesday night's 9-1 Tigers victory over the White Sox, Rick Porcello looked like he didn't know what to do. He walked toward home plate to congratulate his catcher, Alex Avila, then eventually went back to the mound for the line of handshakes.
"He's not out there at that point in the game," Avila said.
He knows the end-game routine after a win. He knows the view of it from the mound, because he finished out a Tigers win in relief in Oakland back in April. He just had never been out there at the end of a game he started.
"It did look like that," Torii Hunter agreed with a laugh.
It was one of the rare looks of uncertainty Porcello had on a night that ended with the first complete game of his career. It couldn't have come at a bigger time for the Tigers, and maybe not for him either.
"I had a big smile on my face at the end of the game," pitching coach Jeff Jones said, "and I saw he had a big smile on his face."
Porcello was the starting pitcher in the 20-run debacle in Boston last week that seemingly encapsulated the Tigers' run of five losses in their previous six games, slashing four games off their division lead.
After Tuesday's win and an Indians loss to the Royals, the Tigers are back where they were coming into this series, up 5 1/2 games in the American League Central. Their magic number, meanwhile, is down to 13 to clinch their third consecutive division title.
Porcello rarely shows a whole lot of emotion, and he didn't gush by any stretch Tuesday. Still, his smile made it clear this outing meant something to him on many levels.
"The last outing was a rough one, and I really wanted to bounce back," Porcello said. "So it was a good sign on a personal level and also on a team level. We really needed this win. It's been kind of a rough road trip."
His stuff wasn't necessarily his best of the season; he arguably dominated more in an eight-inning, 11-strikeout no-decision against the Pirates back in May. However, the longer he pitched, the stronger he grew, until it looked like he and Avila were playing catch for the final few innings toward the third complete game by a Tigers pitcher this year, and the first complete-game win since Anibal Sanchez nearly no-hit the Twins on May 24.
"From the middle of the game to the end of the game, it was a good rhythm," Avila said. "That's a credit to him. He had such good command toward the middle and end of the game that he was just locked in."
Porcello escaped two early jams, including three straight fourth-inning singles that brought in the lone run, and didn't allow another hit after that. He retired 14 in a row and 16 of his last 17, the lone baserunner a ninth-inning walk that he erased with a double-play grounder.
He took a commanding lead, built in part on an error-laden outing on the home side, and used it against a White Sox lineup that was swinging early and often to try to hit its way back into the game. Time and again, they hit their way into early outs.
It wasn't just Porcello (12-8) pounding hitters with his sinkers.
"Early on, I was really struggling to get the breaking ball down with two strikes," Porcello said. "I gave up a bunch of two-strike hits. That was one of the bigger adjustments I've been able to make this year, get the breaking ball down in the zone, especially late in the count, and not give up those two-strike hits, and get ahead of guys."
Like Porcello commanded the White Sox, the Tigers are still in command in the Central. The White Sox, meanwhile, remain in last place. The reasons behind both were evident Tuesday evening.
Chicago made four errors in the first five innings, two of them wayward throws from third baseman Conor Gillaspie that allowed runs to score. The Tigers added their share with four-hit games from Prince Fielder, who hit a third-inning solo homer, and Avila, who doubled in two runs in that same inning.
For all the Tigers' struggles to pounce on left-handers over the past week, from Boston's Jon Lester to Chicago's Chris Sale to Kansas City's Danny Duffy and Bruce Chen, they've still hit right-handers. They'll still have a challenge ahead Wednesday night against lefty Jose Quintana, but rookie righty Erik Johnson was not.
"We didn't help him at all," White Sox manager Robin Ventura said. "But he was fine. Pitch count-wise, if we're making a few plays here and there, it's probably a different story. Porcello, he kind of scattered his hits, where for Detroit, they bunched together and scored some runs and it was ugly."
Detroit's lone defeat to a right-hander in their stretch of five losses in six games leading into Tuesday came against Ryan Dempster last Wednesday in Boston. That was the loss Porcello took, and the one he wanted badly to overcome.
As he finished the eighth inning with 94 pitches, it was clear he was going to get the chance to finish it out. His manager, Jim Leyland, has pulled the plug on other complete-game bids of his, but this one wasn't in doubt for him.
"That's not a time to get sentimental," Leyland said. "He deserved to be out there because he was getting them out. I thought he more than deserved it."
Not even a leadoff walk would change that decision. And as Porcello gave Avila a hug after striking out Garcia, few were happier.
"We came up together," Avila said. "We were both rookies the same year. Getting to catch his first complete game is special."
Jason Beck is a reporter for MLB.com. Read Beck's Blog and follow him on Twitter @beckjason. This story was not subject to the approval of Major League Baseball or its clubs.