Reds drop two straight to Cubs for first time since '11
Reds drop two straight to Cubs for first time since '11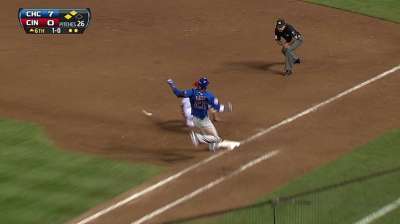 CINCINNATI -- Amusement parks around the country have already started to shutter operations with summer being just about over and kids headed back to school.
Who needs stomach-twisting wild rides when fans can have the Reds? The dizzying high of taking back-to-back series from the Cardinals and Dodgers has quickly given way to the rapid descent of losing back-to-back games and a series to the last-place Cubs. Tuesday was a textbook blowout, as the Reds were handed a 9-1 defeat at Great American Ball Park.
And then there was the added twist and turn no one on Cincinnati's side wanted -- the return of back trouble for rookie starting pitcher Tony Cingrani. The lefty exited after only 1 2/3 innings with spasms shortly after giving up Welington Castillo's two-run home run.
"Sometimes it's one thing or another. That's how we are," Reds manager Dusty Baker said. "We took three great steps forward and take a couple of steps backward. Now it's time to step forward [Wednesday]. We're in a position for a 7-3 homestand. You don't like losing this game and you don't like losing to the Cubs. If every homestand is 7-3, that's playing .700 ball. That's what we're playing for tomorrow."
With 16 games remaining, the Reds can ill afford such hiccups. They fell to two games behind the second-place Pirates and three games behind the division-leading Cardinals, as both National League Central rivals won on Tuesday.
"No one in here is really excited about the game. Nobody is happy," Reds left fielder Ryan Ludwick said. "Everybody knows that team is last in the division. We're playing for a possible playoff spot, a division championship. We just played two really good baseball teams and played really good baseball.
"I don't know if you call it a letdown. I don't know if you call not focused. I don't know if you call it not enough energy. I don't know if you call it those guys came in and are trying to play spoiler. Obviously, losing Tony -- that's tough. Just all around, it wasn't a good game from the first inning on."
Showing lower-than-usual velocity (88-91 mph) and topping out at 92 mph, Cingrani gave up a leadoff single and a walk in the first inning. But he escaped with Anthony Rizzo's 5-4-3 double play and a Donnie Murphy strikeout.
Junior Lake started the second with a double off the wall in left-center field. Two batters later, Castillo hit an estimated 470-foot drive to the left field upper deck for a two-run homer. Cingrani got Ryan Sweeney to fly to left field, but he only made one pitch to Cubs starter Edwin Jackson before being visited at the mound by a trainer and pitching coach Bryan Price.
Cingrani, who just returned on Thursday from a disabled list stint with a lower back strain that cost him two starts, was lifted for righty Greg Reynolds.
"That was devastating at that point to lose him and to have to go to my bullpen that early," Baker said. "Thank God we have an off-day on Thursday."
Reynolds, who also lasted only 1 2/3 innings, could not keep the game close. With two outs in the third, a first-pitch hanging curveball to Murphy went for a two-run homer to left. Lake followed with a single and went to second on right fielder Jay Bruce's error. Darnell McDonald's RBI single added an unearned run. The Cubs added a run in the fourth inning on a sacrifice fly from Darwin Barney after Nick Christiani replaced Reynolds with runners on the corners and one out.
Curtis Partch replaced Christiani and gave up a run in the sixth and a pair of solo homers in the seventh -- by Castillo and Jackson, who hit the second home run of his career. Just like the three pitchers that preceded him, Partch lasted only 1 2/3 innings. Zach Duke and Logan Ondrusek followed with one and 1 1/3 innings, respectively. But Baker was able to keep other key members of the bullpen idle for Wednesday.
It was a bleaker night for the lineup, as the Reds went 1-for-11 with runners in scoring position. That made it 1-for-21 as they dropped consecutive games vs. the Cubs for the first time since Sept. 7 and 12, 2011.
Opportunity seemingly knocked best in the Reds' fifth, when Ryan Hanigan and pinch-hitter Henry Rodriguez started the inning with back-to-back singles. But Choo grounded back to the mound, where Jackson began the 1-6-3 double play and Phillips grounded out to first base.
"[Hitting] has let us down the last couple of days," Baker said. "Double plays really hurt. They're very deflating, especially when you're trying to play comeback baseball."
In the seventh inning, pennant race baseball had taken on a more Spring Training like flavor. Cincinnati made wholesale substitutions that lifted six regulars.
The most notable change was Billy Hamilton replacing Choo in center field in his first game in a non-pinch-running capacity. Hamilton went 0-for-2 with a line out and a ground out to end the nearly four-hour game.
Following a 2-0 loss on Monday, back-to-back shutout losses were avoided in the bottom of the seventh. After Zack Cozart hit a one-out double to left field against Jackson to extend his career-high hitting streak to 15 games, pinch-hitter Corky Miller hit a RBI double to left field.
"Thank God for September callups. All of them got in," Baker said. "I told my boys to go home because we have an early 12:35 [p.m. ET, and a] hot game tomorrow. They were trying to stick around. I told them to go home and get ready and come in for tomorrow ready."
Mark Sheldon is a reporter for MLB.com. Read his blog, Mark My Word, and follow him on Twitter @m_sheldon. This story was not subject to the approval of Major League Baseball or its clubs.