Worth the wait: Buchholz dominates in return
Worth the wait: Buchholz dominates in return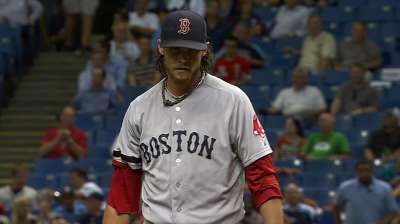 ST. PETERSBURG -- After a three-month layoff, it was unfair to expect Clay Buchholz to resume pitching like one of the best pitchers in the American League. Yet he did anyway.
In an impressive return to action, the right-hander fired five shutout innings, leading the Red Sox to a 2-0 victory over David Price and the Rays on Tuesday night at Tropicana Field.
Buchholz allowed just three hits and a walk while striking out six and outdueling the Rays ace.
Since he is still building back his arm strength, Buchholz came out after 74 pitches, 44 of which were strikes.
While improving to 10-0 and lowering his ERA to 1.61, Buchholz gave the Red Sox a sense of excitement because of what he can offer down the stretch and into October.
"Well, a healthy Clay Buchholz is going to be a great addition," said manager John Farrell. "He showed it tonight. We've got, like I said before the game tonight, three weeks to continue to build him up from a stamina standpoint. But to see him walk to the mound, I think it gave everybody a boost of confidence."
Arriving to the park earlier than normal and with some nervous energy, Buchholz calmed himself once he got back to his office: the pitchers' mound.
"I felt pretty good. I went to a lot of three-ball counts. That's probably the worst thing I can say about it," said Buchholz. "It was a night where I was able to miss the fat part of the bat and get some ground balls. [Catcher Jarrod Saltalamacchia] throwing out a couple of runners helps. Overall, I felt good."
Did Buchholz, who had been sidelined with a right bursa sac strain, give the Red Sox more than they expected?
"Honestly, yes," said Farrell. "With the three outings that he had before rejoining us, each one was getting more consistent, and inside his last outing, which each inning that he did pitch, the consistency was coming along. Those were the reports and he carried that through the five innings tonight. He was efficient; he got to the pitch count we were hopeful he'd get through."
Craig Breslow, Boston's most underrated reliever, worked around two walks over his two hitless innings to lower his ERA to 2.01.
Junichi Tazawa worked a scoreless eighth, setting the table for Koji Uehara, who continued his dominance by working the final four outs.
Uehara picked up his 19th save and reduced his ERA to 1.10, increasing his streak of retired batters to 31. That ties the record for a Red Sox pitcher, equaling fellow Japanese righty Hideo Nomo, who pulled off that same streak as a starting pitcher in 2001.
"To be in the same uniform, in the same dugout, to see a guy who's been this efficient -- at one point, I think he was 12-for-12 strikes thrown," said Farrell. "As we've said, it's a very calm inning when he comes to the mound, and that was the case again tonight."
Of the 13 pitches Uehara threw, 12 were strikes.
"They've pitched well against us all year," said Rays manager Joe Maddon. "Boston has beaten us because they've actually outpitched us in most of those games. A lot of close games with them. Very tightly contested games with them. We're just going to have to figure out how to break through offensively."
The win increased Boston's lead to 8 1/2 games in the American League East over the Rays with just 16 games to go. The magic number for the Red Sox to clinch the division is 10.
While Tampa Bay has struggled mightily of late, the Sox are in their best groove of the season with a 13-3 mark since Aug. 24.
"We've played good in a lot of aspects of the game," said Jonny Gomes. "With that being said, that's what we have to do to stay in first in Major League Baseball. You need to pitch, you need to play D and you need to touch the dish. It's something we've done."
Price was equal parts gritty and masterful for the Rays in this one, giving up two runs over eight innings and throwing a career-high 127 pitches. He walked none and struck out nine.
It was quite a challenging opponent for Buchholz in his return to action.
"Wouldn't want to make it easy. That's what I thought to myself when I heard," said Buchholz. "He's obviously one of the best pitchers in the league, and it's tough to go out there and give up runs with somebody else throwing like that. The main goal is not to give up many runs, if any."
After Price fired four perfect innings, the Red Sox came through with what turned out to be the game-turning rally in the fifth.
Mike Napoli gave the Red Sox some life when he led off the fifth with a double to center that Desmond Jennings just missed against the wall. In fact, Jennings admitted he misplayed it.
Gomes followed with an RBI single up the middle. Daniel Nava moved Gomes to third with a bunt and Saltalamacchia's sacrifice fly to deep center made it a 2-0 game.
Other than that one brief spark from Boston, the duel -- or ace-off if you will -- was exactly as advertised.
As for the Red Sox, they just keep rolling. And now they have a familiar weapon back just in time for the final push.
"It's a big advantage for us," said Uehara. "Just looking at his record, he has 10 wins, and that means a lot to the team."
Ian Browne is a reporter for MLB.com. Read his blog, Brownie Points, and follow him on Twitter @IanMBrowne. This story was not subject to the approval of Major League Baseball or its clubs.