Price's stellar start goes for naught in loss
Price's stellar start goes for naught in loss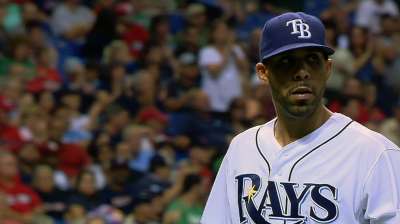 ST. PETERSBURG -- That one hurt.
Hoping to gain ground on the Red Sox and hold off a host of Wild Card suitors, the Rays sent David Price to the mound Tuesday night looking for the magic. Despite having their ace at his best, they still came away 2-0 losers to the Red Sox at Tropicana Field.
"Of course [the loss was] difficult," manager Joe Maddon said. "But we've got good pitchers the next two days, and again, if we can win this series, that would be fantastic. But you have to win tomorrow's game first."
First-place Boston increased its margin in the American League East over Tampa Bay to 8 1/2 games. Meanwhile, the Rays still hold the second AL Wild Card spot, but the field got closer Tuesday night. Baltimore and Cleveland lost, leaving both 1 1/2 games behind Tampa Bay, but the Yankees and Royals moved to within two and three games, respectively, of Tampa Bay.
Since being percentage points ahead of the Sox for first place in the AL East at the end of play on Aug. 24, the Rays have gone a Major League-worst 4-12. During that span, Tampa Bay has scored 41 runs and is batting .179 with runners in scoring position. At the other end of the spectrum, Boston has gone a Major League-best 13-3.
Price entered Tuesday night's start following a rough outing in Anaheim on Thursday, when he allowed a season-high 11 hits in a 6-2 loss to the Angels.
Clearly he meant business from the beginning against the Red Sox, retiring the first 12 batters he faced and taking a perfecto into the fifth. That's when the Red Sox got busy.
Mike Napoli led off the inning with a drive to the center-field wall that Desmond Jennings couldn't haul in, allowing Napoli to reach second base with a double.
"I just kept going to the wall," Jennings said. "I reached out to get it and I didn't reach out high enough. It's a play that should've been made."
Maddon noted he planned to talk to Jennings, who has experienced two dropped balls in the outfield over the past couple of weeks, and Napoli's ball was one that he normally catches. Jennings made a simple observation of his situation.
"I don't know what it is actually," Jennings said. "It's a bad time to be playing bad."
Jonny Gomes singled through the middle to score Napoli. After the former Rays outfielder went to second on the throw to the plate, he stroked his heavy beard in salute to his teammates in the Boston dugout.
Choosing to go National League on the Rays, Daniel Nava sacrificed Gomes to third, and he scored easily on Jarrod Saltalamacchia's sacrifice fly that Jennings caught with a leap at the wall.
Unfortunately for the Rays, the 2-0 lead would be all the Red Sox needed as Tampa Bay's offense continued to snooze against an effective collection of Red Sox hurlers, beginning with starter Clay Buchholz and finishing with closer Koji Uehara, who has retired each of his last 31 batters faced.
Buchholz made his first start since June 8 and allowed no runs on three hits in five innings to move to 10-0 on the season.
"Overall, I felt good," Buchholz said. "To face a lineup like this -- that I've faced a lot over the past couple years -- they know what I've got and I know them, too, so it's almost a chess match every time you go up against those guys."
Tampa Bay dropped to 6-11 against Boston this season despite holding them to a .207 team batting average and 61 runs. Against all their other opponents, the Sox are hitting .285. Maddon noted there has been a reason for Boston's success against his team this season.
"They've pitched well against us all year," Maddon said. "Boston has beaten us because they've actually outpitched us in most of those games, a lot of close games with them, very tightly contested games with them. We're just going to have to figure out how to break through offensively."
Price allowed two runs on three hits in eight innings without walking a batter, throwing a career-high 127 pitches, 92 for strikes. Despite pitching brilliantly, he lost his third consecutive start, which tied the longest losing streak of his career.
"Dave was outstanding," Maddon said. "I thought he was great. He could not have done anything more."
Indeed, Tuesday night's loss will be one of the tougher ones the Rays will have to wear all season, but with four teams closing in and little time remaining in the season, they don't have the luxury of feeling sorry for themselves.
"You can't dwell on it," Price said. "We have 19 games left. You dwell now and we'll be hanging out in October."
Bill Chastain is a reporter for MLB.com. This story was not subject to the approval of Major League Baseball or its clubs.