Soriano, A-Rod power Yankees past Orioles
Soriano, A-Rod power Yankees past Orioles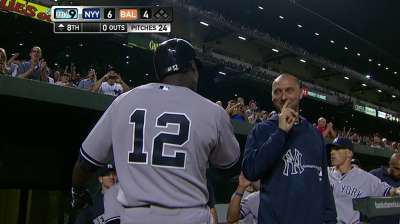 BALTIMORE -- Alfonso Soriano continued to cement his standing as one of the best midseason acquisitions in recent memory, swinging a big bat that kept the Yankees alive in their chase for a playoff spot.
Soriano homered twice, including a go-ahead two-run shot in the eighth inning off Kevin Gausman, as the Yankees rallied for a 7-5 victory over the Orioles at Camden Yards.
"The difference is I'm having fun right now," said Soriano, who has hit 15 of his 34 homers this season since joining the Yankees in late July. "I'm playing for a team to be a contender in the playoffs, so every game counts."
Alex Rodriguez had two doubles, an RBI and a run scored, and Mark Reynolds also homered for the Yankees, who got back on track as they pursue an American League Wild Card berth. They have pulled within two games of the Rays for the second slot, with the Orioles and Indians both ahead of them in the standings by one-half game.
"I've said all along, there's no quit in this team and there's a lot of character in that room," Yankees manager Joe Girardi said. "They've fought all year long and they continue to fight."
Adam Warren (2-2) pitched a scoreless seventh, Shawn Kelley allowed a sacrifice fly in the eighth and Mariano Rivera got the final four outs for his 42nd save of the season -- the 650th of his career.
"I have to be ready for that situation," Rivera said. "It sounds like a broken record, but that's the way it is."
Trailing by three runs after five innings, Soriano and Reynolds got the comeback started with solo shots in the sixth inning off Baltimore starter Miguel Gonzalez.
Soriano logged his 37th career multi-homer game by delivering the big blow in a four-run New York eighth inning, a frame that featured Robinson Cano's game-tying RBI single off rookie Kevin Gausman (2-5) and a run-scoring double off Reynolds' bat.
"I've had Alfonso. He's been a good Major League player for a long time," Orioles manager Buck Showalter said. "He certainly doesn't get cheated. He's been a good player for a long time. It's a good pickup for them."
Girardi said that the Yankees did not know what to expect when they re-acquired Soriano in exchange for a Minor League pitcher and cash considerations on July 26, but Soriano has been elated to be re-fitted for the first uniform he wore in the big leagues.
"I followed the Yankees early in the season and they had a lot of injuries," Soriano said. "Now with Alex, [Curtis] Granderson and me, we have a better lineup now. The pitcher has to work more."
The Yankees overcame Chris Davis' Major League-leading 49th home run, a two-run shot in the fifth inning off Ivan Nova, as well as a pair of new injuries: Rodriguez left the game after tweaking his hamstring running the bases in the eighth, and catcher Austin Romine may have suffered a concussion on an eighth-inning foul tip.
Nova also had a health concern to handle, as Girardi revealed that Nova has been managing tightness near his right triceps, which limited the right-hander to just 79 pitches on Tuesday after Nova's velocity dropped a few ticks.
"He had this thing that he's dealt with for awhile now," Girardi said. "It hasn't kept him from making a start. Sometimes it tightens up a little bit. He said it tightened up a little bit, so I took him out."
"You never want to tell your manager, because they can push you back or skip you, whatever," Nova said. "You just want to keep pitching."
Nova blanked the Orioles over the first four innings before having trouble in the four-run fifth, which opened with three straight hits. Henry Urrutia knocked in the first run with a single that shortstop Eduardo Nunez also committed an error on.
It appeared that Rodriguez made a miscue of his own later in the inning: catcher Chris Stewart threw up his hands in surprise after Rodriguez cut off a looping toss from Soriano in left field, believing that the Yankees would have had a chance to tag out Brian Roberts, who instead scored the go-ahead run.
"I thought we had a play there. I definitely didn't mean to make it look that obvious," Stewart said.
But Girardi defended Rodriguez, saying that Soriano's throw had been off line. Davis then moved within one homer of Brady Anderson's single-season franchise record, set in 1996, by launching a no-doubt blast to center field.
"We're down 4-1 and Gonzalez is pitching a good game," Girardi said. "Our guys put a couple of homers up and we're right back in the game."
Nova allowed four runs and six hits in the effort and is less than 100 percent, but he knows this is no time to beg off any upcoming responsibilities. Nova said that must manage whatever discomfort may be in his triceps, because at this point of the season, every game is crucial.
"I want to keep pitching," Nova said. "We're in the middle of this. I'm still feeling that I can get outs and help the team to win games."
Bryan Hoch is a reporter for MLB.com. Follow him on Twitter @bryanhoch and read his MLBlog, Bombers Beat. This story was not subject to the approval of Major League Baseball or its clubs.