Belt comes up big in Giants' walk-off win
Belt comes up big in Giants' walk-off win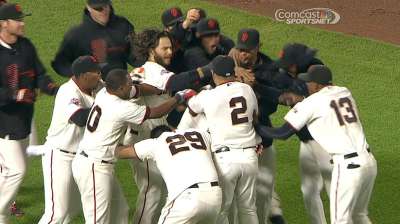 SAN FRANCISCO -- Brandon Belt provided hope for the future precisely when the Giants' hopes for the present officially dissolved.
Belt delivered a pair of clutch hits, including a tiebreaking RBI single in Monday night's 10th inning, to propel the Giants past the Colorado Rockies, 3-2. Earlier, the resurgent first baseman forged the deadlock that he broke with a run-scoring double in the eighth inning.
The Giants, reigning World Series champions, were officially eliminated from the National League West race when the postseason-bound Dodgers defeated Arizona. But the Giants have long resigned themselves to their fate. As Belt said, "I don't think I've looked at the standings in a while."
Manager Bruce Bochy's club still cares, however, about a job well done.
"There's no reason not to keep coming in here with a purpose," said right-hander Tim Lincecum, who overcame a shaky start to last eight assertive innings.
The Giants believe that they can generate momentum for 2014 by finishing 2013 with a surge, not a slump. Belt's effort thus nurtured the belief that if he can sustain his recent performance throughout next season, the Giants will have a better chance at reversing their fortunes.
Belt's batting .354 (46-for-130) since Aug. 1. The adjustments he made to prompt this improvement have been well-documented. He began standing deeper in the batter's box and tweaked his grip on the bat.
"He's a different hitter than he was earlier in the season," Bochy said.
In fact, Belt was a different hitter in each of his final two plate appearances against the Rockies.
With two outs in the eighth inning, Angel Pagan on second base and the Giants trailing, 2-1, Belt pulled Matt Belisle's first-pitch curveball down the right-field line for a double that tied the score.
With one out in the 10th inning, after Pagan and Marco Scutaro both singled, Belt drove Adam Ottavino's 93 mph fastball beyond the reach of left fielder Charlie Culberson to give the Giants their second walk-off win in two days.
Obviously, Belt's now capable of handling the variety of challenges pitchers present him, as well as basic pressure.
"I'm definitely more comfortable now," Belt said. "It's something that you get more comfortable [with] the more experience you gain. I feel pretty comfortable at the plate, period, so when I do get up in those situations I can treat it like any other at-bat."
Lincecum found his comfort zone after surrendering two runs and five hits in the first three innings. After yielding Nolan Arenado's one-out single in the fourth inning, Lincecum retired 14 of the final 16 Rockies he faced. As was the case with Belt, this game also reflected Lincecum's ongoing transition from dominating hitters to steadily dismantling them. Lincecum struck out three batters, marking the first time in his career that he finished with a total that low while pitching at least eight innings.
Lincecum credited his defense for assisting him -- primarily third baseman Pablo Sandoval, who made a couple of diving stops while assisting on six putouts. Right fielder Hunter Pence contributed a running catch in the corner on DJ LeMahieu's eighth-inning drive. Two innings after Lincecum departed, Buster Posey pounced on pinch-hitter Jonathan Herrera's bunt and started a double play that ended with a lunging catch of shortstop Brandon Crawford's one-hop relay by second baseman Scutaro. Never mind that television replays indicated Herrera was safe.
In fact, the Giants' defense was far from perfect. In the second inning, Lincecum neglected to cover home while Posey deserted the plate to field Yorvit Torrealba's dribbler, which enabled Arenado to score from second base. The Giants again wandered into the area in short right field that Bochy has called the "Bermuda Triangle," as Pence, Scutaro and Belt converged on Michael Cuddyer's sixth-inning popup and let it drop untouched for a single. That forced Lincecum to wriggle out of a two-on, nobody-out jam.
Nevertheless, Bochy found enough reason to feel upbeat.
"We want to finish the season on a positive note as we go into next year," he said.
A strong enough finish would enable the Giants to escape the NL West cellar and avoid become the second team to finish in last place one year after winning the World Series.
Belt believed that with 18 games remaining, the Giants can aspire to more than just climbing into fourth place.
"I don't think anybody ever wants to finish last," he said. "We might be out of the division [race], but I don't see why we can't make a run at finishing second."
Chris Haft is a reporter for MLB.com. This story was not subject to the approval of Major League Baseball or its clubs.