Astros post four-run ninth in Cosart's final start
Astros post four-run ninth in Cosart's final start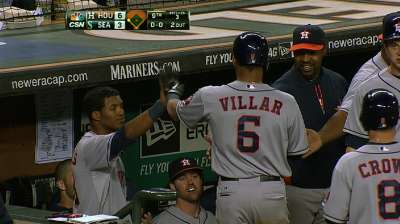 SEATTLE -- Astros pitcher Jarred Cosart, a Houston-area native who's a huge fan of the NFL's Houston Texans, was leading the chorus of yells inside the visiting clubhouse at Safeco Field on Monday night when the Texans rallied to beat the Chargers in San Diego.
"There was a lot of screaming going on," he said.
Only a few minutes before the Texans punched home the game-winning field goal, Cosart found himself cheering on another impressive late-game comeback by a Houston team on the West Coast -- this one by his teammates in orange and blue.
The Astros rallied for four runs in the ninth inning, including an RBI single by Jimmy Paredes and a two-run single by Jonathan Villar, to snap a three-game losing streak with a stirring 6-4 win over the Mariners in what turned out to be Cosart's final game of the season.
Astros manager Bo Porter announced after the game the team was shutting down Cosart for the final three weeks after throwing a career-high 153 innings combined between his time in Triple-A Oklahoma City and in 10 impressive starts with the Astros.
"Honestly, I don't have much left," Cosart said. "My body is tired. This is new for me. Missing time last year with the blisters gave me an extra blow, almost a two-week break for my arm. It's kind of like starting over and I missed no time this year, which was a huge plus for me. That was one of my goals this year, to stay healthy this year and be able to come in next year."
The Astros improved to 3-82 when trailing after eight innings by scoring four times in the ninth on three hits, a pair of Seattle errors and one well-positioned crouch by outfielder Trevor Crowe, who inadvertently blocked a relay throw to the plate after popping out to first base.
It was that kind of night for the Astros, who begin their ninth-inning rally with consecutive one-out walks by Marc Krauss and Carlos Corporan against closer Danny Farquhar. Paredes singled to score pinch-runner Jake Elmore from second, and Villar shot a single up the middle past a drawn-in infield to score pinch-runner Marwin Gonzalez and Paredes, putting the Astros ahead, 5-3.
"I worked for that," Paredes said. "I say to Marwin, 'I want to hit this inning. I want to change the game.' I worked for that. It was a big hit."
Villar scored the fourth run of the inning when he darted home on an errant throw by first baseman Justin Smoak following a foul popup. Smoak's throw to the plate struck Crowe, who had crouched a few feet down the first-base line to avoid the throw.
"That was a crazy play," said Crowe, who went 2-for-5. "I saw Smoak catch the ball, and I was kind of like, 'Oh my God, did I just foul out right there?' I put my head down and I felt something hit me, and I looked to the right and there was the baseball, and I see Villar scampering home."
The rally was huge for the Astros, considering they had runners at second and third and no outs in the eighth and couldn't score. They were 3-for-15 with runners in scoring position.
"Those two walks pretty much got them going, then the two ground balls got through," Farquhar said. "Without those walks, those two hits mean nothing. But putting those two guys on base was pretty much the game right there."
Cosart threw five innings Monday and allowed only an unearned run, two hits and pitched around a career-high six walks that could have been the product of a pitcher with nothing left in the tank.
"I'll get it fixed going into next year," he said. "That's the No. 1 thing that I need to improve on. Everybody makes goal sheets for this offseason in our end-of-the-year meetings, and that's something we'll get ironed out. I was happy to keep my team in the game today and have a chance to win, and now I'm done and get to take a little break and hit it hard in October."
Cosart, 23, positioned himself to be a huge part of the Astros' rotation going forward. He went 1-1 with a 1.95 ERA in 10 starts, allowing 46 hits and 13 earned runs in 60 innings. He did walk 35 batters, which he admitted he'll have to improve next year.
"It's all looking forward to next year for me," he said. "I'm still going to stay here and support these guys, and we want to finish out strong so we have some stuff to look forward to going into next year. I've got a lot to work on, I know that. I'm going to do everything I can in the offseason to get myself in better shape than I've ever been and refine some stuff on the mound to get ready for next year."
Kevin Chapman threw a scoreless eighth inning for his first Major League win after Chia-Jen Lo gave up a two-run homer to Abraham Almonte that allowed the Mariners to take a 3-2 lead in the seventh. Josh Fields picked up his fourth save despite allowing a solo homer.
Brian McTaggart is a reporter for MLB.com and writes an MLBlog, Tag's Lines. Follow @brianmctaggart on Twitter. This story was not subject to the approval of Major League Baseball or its clubs.