Wild ninth dampens Walker's home debut
Wild ninth dampens Walker's home debut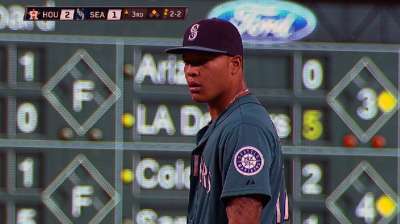 SEATTLE -- Top Mariners prospect Taijuan Walker threw five innings of two-run ball in the third and final start of his initial stint in the Majors, but the Astros rallied for four runs off Seattle closer Danny Farquhar in the ninth to pull out a 6-4 victory on Monday night at Safeco Field.
Seattle had taken a 3-2 lead on rookie Abraham Almonte's two-run homer in the seventh, but Farquhar suffered just his second blown save in 15 opportunities since taking over closer duties five weeks ago.
Farquhar walked two batters with one out, then gave up a tying single to Jimmy Paredes before Jonathan Villar drove a two-run single up the middle through a drawn-in infield to help Houston snap a three-game losing streak.
"Those two walks pretty much got them going, then the two ground balls got through," Farquhar said. "Without those walks, those two hits mean nothing. But putting those two guys on base was pretty much the game right there.
"I was a little too fine with a one-run lead, not wanting to leave anything over the heart of the plate and letting them hit a homer to tie it. But at the same time, I'd rather have them hit a home run or hit me around than have me walking people. That's definitely not my mentality. So I went about things the wrong way today."
Lefty Bobby LaFromboise replaced Farquhar and allowed the final run to cross when first baseman Justin Smoak caught a foul ball down the right-field line, but his throw in hit the batter -- Trevor Crowe -- who was crouching in foul territory in front of the plate as the runner on third raced home.
Manager Eric Wedge said the umpires ruled that Crowe's interference wasn't intentional.
"The only way you get that call is if he intentionally tries to get in the way of the baseball coming in," Wedge said. "I've seen a lot of crazy things, but not something like that, that I can recall."
Shortstop Brad Miller cut Houston's lead in the ninth with a solo home run, but former Mariners first-round Draft pick Josh Fields finished things off for his fourth save in his first year as a Rule 5 pitcher for the Astros.
Walker, a hard-throwing 21-year-old, gave up five hits and one walk while striking out eight before being removed after 84 pitches. The 6-foot-4 right-hander, ranked the No. 4 prospect in baseball by MLB.com, remained 1-0 with a 3.60 ERA with the no-decision.
"I got into a rhythm, started getting ahead and my fastball location got better," Walker said after retiring the final nine batters he faced. "I was able to pretty much pitch my game and get more comfortable as the game went on.
"I kind of got a little mad, so that helped, too. Giving up the runs, not putting the pitches where I wanted, it kind of irritated me. So I got locked in and stayed focused."
The Mariners wanted to give Walker a little Major League exposure this season in preparation for a starting shot next spring, and he wound up throwing 15 innings in three games while allowing 11 hits, six earned runs, four walks and 12 strikeouts.
"I thought he was real good and the best thing was he got better as the game wore on," Wedge said. "We've seen three outings and really three different types of games from him and all good."
Combined with his Minor League totals, Walker finished the year with 156 1/3 innings pitched. He threw 126 2/3 innings last year as a 20-year-old in Double-A ball.
"I know I need to work on my breaking ball in the offseason, but for the most part I felt like I did a pretty good job. I feel pretty confident in myself," Walker said. "I feel good. I'm a little tired. I feel like I could keep pitching, but I understand why they're shutting me down. I've never thrown this many innings before."
The Astros had their own young gun going, and rookie right-hander Jarred Cosart held Seattle to two hits and an unearned run in his own five innings. Cosart did issue six walks, but the Mariners couldn't take advantage as he lowered his ERA to 1.95 in 10 starts in what the Astros said would also be his final start of the year.
After Houston went to its bullpen, the Mariners took the lead when Almonte, playing his 10th game since being added as a late-season callup, drove a 2-2 fastball from Chia-Jen Lo over the right-field fence after Miller had singled with one out in the seventh.
Almonte finished 2-for-5 with a double and home run and is hitting .258 while adding some needed speed to the Mariners' attack. The 5-foot-9 outfielder scored Seattle's first run in the first when he scooted home from second on a throwing error by Villar.
"Again, another good ballgame," Wedge said of the outfielder acquired from the Yankees for reliever Shawn Kelley this spring. "Good players find themselves in the middle of it. We've only had a very small sample size with him, but he's been in the middle of some good situations here fairly frequently."
The Mariners fell to 65-79 with the loss and are 10-7 against the Astros, who are 48-96 in their first season in the American League West.
Houston manager Bo Porter was impressed with Walker and happy to come away with a victory.
"You have to give credit to that righty they had, throwing 96, 97 [mph] with lots of sink and throwing his secondary pitches for strikes," Porter said. "And then to come back in the ninth … We're a young team learning how to win games, and we did that today with a really good comeback.
"I always like beating Eric Wedge because I know how much time and preparation -- having played for him -- that he puts into making sure his team is competing at a high level on the field. So any time you can win a game against his ballclub, it's a good win."
Greg Johns is a reporter for MLB.com. Follow him on Twitter @GregJohnsMLB as well as his Mariners Musings blog. This story was not subject to the approval of Major League Baseball or its clubs.