Alvarez bumped early as Marlins fall to Braves
Alvarez bumped early as Marlins fall to Braves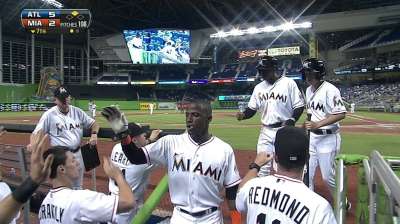 MIAMI -- Regardless of all the struggles the Marlins have had in a transition season, they've always been able to count on their starting pitching. Suddenly, that has become a reason for concern.
Henderson Alvarez is the latest starter to be knocked out of a game early, as the right-hander gave up five runs in the fourth inning, and the Marlins were unable to recover.
Backed by a big inning, Kris Medlen limited the Marlins to two runs in 6 1/3 innings, and the Braves breezed to a 5-2 victory on Monday night at Marlins Park.
Evan Gattis delivered a two-run double in the fourth inning, while Justin Upton and Freddie Freeman each chipped in with doubles in the decisive frame.
"We're in a bad rut right now with our starting pitching," Marlins manager Mike Redmond said. "It seems like we're good the first time through the order, but the second time through the order, it seems like the wheels are coming off."
Chris Coghlan enjoyed a four-hit game, matching a career best now done seven times. Juan Pierre collected a pinch-hit double, giving him 2,212 career hits, which is tied with Joe Kuhel for 176th all-time. Next up for Pierre is Joe DiMaggio with 2,214 hits, which ranks 175th.
In the sixth inning, Miami catcher Jeff Mathis was replaced by Rob Brantly due to a bruised right thumb. Mathis' status is day to day.
For the third straight game, the Marlins starter didn't make it past four innings. Alvarez was lifted after allowing five runs on five hits and throwing a wild pitch in the fourth inning.
In a 9-2 loss to the Nationals on Saturday night, Nathan Eovaldi exited after three innings. Jacob Turner, in a 6-4 loss on Sunday afternoon, was replaced after four innings.
"That's three nights in a row where our starter couldn't get us through the fifth inning," Redmond said. "I guess the saving grace is we have a lot of arms down there in the bullpen. But we're giving up big numbers and taking ourselves out of the game early. The way our offensive has been, it's been tough to recover. I'm happy that we fought back. But that's a big number to overcome."
Atlanta snapped a four-game losing streak, while Miami has now dropped three in a row.
For three innings, it actually looked as though Alvarez was headed for a strong night. The Braves were held hitless through three innings, but everything changed an inning later.
"It's just the location of my pitches. They stayed up," Alvarez said in Spanish. "They made the adjustments, and those pitches got hit. Fastballs and sliders were both staying up."
Alvarez, who threw 27 pitches in the inning, struggled to put anyone away. Upton led off with a double, snapping an 0-for-18 drought. Four pitches later, Freeman doubled to left. Upton was held at third because he wasn't sure if Christian Yelich would make the catch.
Gattis opened the scoring with a two-run double down the third-base line. Brian McCann walked, and Chris Johnson floated an RBI single to right. The Braves had three runs before Alvarez registered an out.
Elliot Johnson delivered a run-scoring single, making it a four-run lead. The fifth run of the frame came while Jordan Schafer was batting, and Alvarez threw a wild pitch, bringing home Chris Johnson.
Brad Hand relieved Alvarez in the fifth inning, and tossed three scoreless innings.
For Alvarez, it was his second loss of the season to Atlanta.
"Early on, we weren't getting any production," Elliot Johnson said. "But it seemed like we were wearing him down. Guys were having good at-bats and putting together a lot of pitches every at-bat and making him work for the outs."
Physically, the right-hander feels fine. But the Marlins don't have many answers right now for a lack of quality starts.
"It's something that just happens," Alvarez said. "We're going through a tough stretch here, but that's just part of the game."
The Marlins bullpen stepped up as Hand, Dan Jennings and Chris Hatcher combined on five scoreless innings.
Miami got on the board in the seventh inning on Ed Lucas' two-run double, which scored Pierre and Adeiny Hechavarria, who singled.
Coghlan stayed hot with a hit in the inning.
"We talked about getting him in the lineup, and seeing what he can do," Redmond said. "He's done a great job. He's taking advantage of his opportunity. He's hitting. If you're hitting, you play. He's gotten in there, and he's done his job. He's got hits, and he's going to play."
Joe Frisaro is a reporter for MLB.com. He writes a blog, called The Fish Pond. Follow him on Twitter @JoeFrisaro. This story was not subject to the approval of Major League Baseball or its clubs.