Braves string big rally to back sharp Medlen
Braves string big rally to back sharp Medlen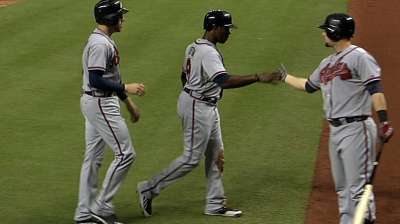 ATLANTA -- Coming off a frustrating weekend during which their offensive woes were extended courtesy of a few matchups against Cole Hamels and Cliff Lee, the Braves certainly were not going to be picky about the manner in which they scored runs.
In fact, there really was no reason for them to even worry about the fact that all of the hits and runs they recorded during Monday night's 5-2 win over the Marlins came in the midst of a fourth-inning eruption that backed an impressive Kris Medlen and helped snap a maddening four-game losing streak.
"Five spots are great," Elliot Johnson said. "It would have been nice to put up a few more, but we're going to take it. You're not trying to go out there and score 10 every night. You want to get as many as you can. But as long as you get more than they get, that's all that really matters."
Johnson notched one of the five fourth-inning hits that quickly halted Marlins starter Henderson Alvarez's dominance and gave Medlen all the support he needed to move his record (13-12) above .500 for the first time this season. The Braves right-hander surrendered three hits -- all singles recorded by Chris Coghlan -- through the first six innings and then three more while facing just four batters in Miami's two-run seventh inning.
While allowing two runs or fewer in four of his past five starts, Medlen has found the groove that he has been searching for dating back to when he won just one of his first seven decisions. His turnaround has proven to be timely for the Braves, who have reduced their magic number to win the National League East down to eight with 19 games remaining.
"Any game we win is good," Evan Gattis said. "We're just trying to get in the right direction. It's good to ease up, relax and get back to just winning ballgames."
As the Braves went hitless through the first three innings, it appeared they might extend the offensive struggles that led them to score two runs or fewer three times during the four-game skid they carried into this contest. But the tone of the evening changed when Justin Upton, Freddie Freeman and Gattis recorded three consecutive doubles within a span of the first nine pitches Alvarez threw in the fourth inning.
"[Alvarez] left some pitches out over the plate, and they made him pay for it," Marlins manager Mike Redmond said. "Those guys have the ability to put up some runs rather quickly if you make mistakes. That's what happened to them, they got to him rather quickly."
After Gattis provided an early lead with his two-run double to left field, Chris Johnson followed a Brian McCann walk with an RBI single. Johnson scored McCann with a one-out single off Alvarez, who added to his frustrations by allowing the Braves to score their fifth run of the inning on a wild pitch.
"That second time around [the lineup], everybody had a much better feel," Elliot Johnson said. "He had a really, really good fastball that first inning. He came out throwing 98s up there. The second inning wasn't quite as high. It could be part of the reason we had to work the counts, maybe fouling off a few more pitches. Gattis coming up with the huge double got things rolling and really built the momentum from there."
Gattis' two-run double extended the momentum he created when he hit two monstrous home runs that accounted for the only two hits and runs the Braves scored in Sunday's loss to Hamels and the Phillies. Since returning from a three-game stint with Triple-A Gwinnett last week, Gattis has gone 7-for-21 with two doubles and three home runs.
After allowing just the three singles to Coghlan through the first six innings, Medlen allowed Juan Pierre to begin the bottom of the seventh with a double and advance to third base on Adeiny Hechavarria's single. Pierre and Hechavarria scored on a Ed Lucas double that ended the night for Medlen, who saw Luis Avilan record the inning's final two outs without incurring any more damage.
Because he had not pitched during any of the previous six days, Craig Kimbrel was scheduled to make an appearance regardless of the situation that unfolded during this game. The two-run seventh provided an opportunity for the dominant closer to notch his 45th save. Kimbrel has allowed just one earned run in the 45 innings he has completed dating back to May 9.
With his latest scoreless ninth, Kimbrel gave Medlen a chance to further savor what he has accomplished while winning seven of his past eight starts. He has compiled a 2.75 ERA during this span.
"I'm not done yet," Medlen said. "But when you get to this point right now, it's pretty fun to look back and see that I started 1-6 and kind of turned things around. Obviously I'm not the one scoring the runs. They had a huge inning for me today."
Mark Bowman is a reporter for MLB.com. This story was not subject to the approval of Major League Baseball or its clubs.