Plouffe's three RBIs help Twins end home skid
Plouffe's three RBIs help Twins end home skid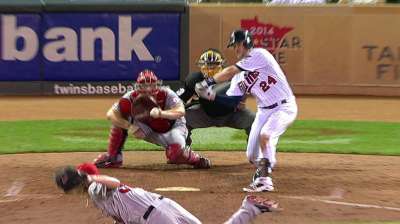 MINNEAPOLIS -- It's not every day a team completes a three-game sweep while ending a 10-game home losing streak in the process.
But that is exactly what happened for the Twins on Monday night in a makeup game from a postponed April 17 meeting against the Angels after taking the first two games of the series nearly five months ago.
The Twins rallied late behind three RBIs from Trevor Plouffe and a three-hit performance from Josmil Pinto to end their home losing streak dating back to Aug. 16 with a 6-3 win over the Angels on at Target Field.
"We all know we've lost a few ballgames in a row here," Twins manager Ron Gardenhire said. "To get a win, the people who showed up here were rooting pretty hard, and our guys were playing pretty hard, too. So it was a big win."
Plouffe was the hero, as he laced a two-run single to tie the game at 3 in the fifth inning before bringing home what proved to be the winning run with a sacrifice fly to right field with the bases loaded in the seventh.
The sac fly off right-hander Cory Rasmus scored Brian Dozier, who was able to beat the throw with a great slide into home, using his hand to touch the plate.
"I've never seen Rasmus before, and he was throwing a lot of sliders," Plouffe said. "He got me 2-2, so I was just trying to battle and put the ball in play. We've been struggling a lot with that, and I know I have with runners in scoring position, so it was good to do that and then Dozier made a nice slide there."
Pedro Florimon added an insurance run with a two-out walk with the bases loaded against left-hander Buddy Boshers, and the Twins added another with Ryan Doumit's two-out single in the eighth.
It all came on a night when left-hander Pedro Hernandez labored through 4 2/3 innings. He gave up three runs on eight hits and a walk, throwing 89 pitches. But Angels ace Jered Weaver did not fare much better, surrendering three runs on nine hits and two walks over six innings while also throwing 89 pitches.
"I felt good, but I think the heat got to me a little bit," Hernandez said. "I would've liked to have gotten ahead of hitters a little more. Getting behind against righties hurt me."
The Twins took an early lead with a run in the third inning on an RBI double from Pinto to score Florimon from first base. Pinto then advanced to third on a one-out single from Dozier, but they were both stranded, as Oswaldo Arcia struck out and Doumit popped out to end the inning.
It was a big night for Pinto, who finished with three doubles to raise his batting average to .565 in his first seven big league games. He even made a statement the one time he made an out, in the sixth inning, as he lined a foul ball off the office windows below the Budweiser Roof Deck in left field before lining out hard to right field.
"He's a strong young man," Gardenhire said. "He has a short swing, and you can see him drive it both ways. He hit that one off the windows in foul territory, and then he shoots one off the wall. That's hard to do."
The lead was short-lived, as the Angels scored twice in the fourth. Kole Calhoun brought home the first run with an RBI double before Grant Green plated a run on an RBI groundout on a nice play by Plouffe at third base.
The Angels added to their lead with an RBI double from Josh Hamilton in the fifth. The double knocked Hernandez from the game in favor of right-hander Ryan Pressly, who was able to get out of the jam and ended up throwing 1 1/3 scoreless innings.
The Twins came right back with Plouffe's two-run single with two outs in the fifth to score Pinto, who drew a leadoff walk, and Doumit, who doubled with two outs.
"I made a pretty good pitch to Plouffe, but he kind of stuck his bat out there and hit it back up the middle," Weaver said. "Sometimes you're going to get guys out, and sometimes you're not -- he came up with a big hit there to tie the game up. It was a battle."
Pressly departed after the sixth, and relievers Casey Fien, Brian Duensing, Jared Burton and closer Glen Perkins combined to shut out the Angels over the final three innings to preserve the win for the Twins.
"They did a real nice job," Gardenhire said. "We went through a whole bunch of them. Pressly came in and got out of a big situation. We just went inning by inning. Fien had a nice inning, Duensing got his guy, Burton got a big strikeout and Perkins out there at the end. So it was a good thing."
Rhett Bollinger is a reporter for MLB.com. Read his blog, Bollinger Beat, and follow him on Twitter @RhettBollinger. This story was not subject to the approval of Major League Baseball or its clubs.