Angels drop makeup game against Twins
Angels drop makeup game against Twins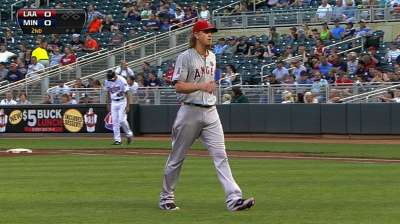 MINNEAPOLIS -- Angels manager Mike Scioscia has spoken of the learning curve facing his young roster as many players are getting their first extended look in the Major Leagues. On Monday night, that learning curve was especially steep in one inning, and the Angels paid for it.
The Minnesota Twins pulled ahead by scoring two runs without a hit in the seventh inning and held on to defeat the Los Angeles Angels, 6-3, on Monday night at a sweltering Target Field.
Grant Green made a crucial error on a potential double-play ball, and relievers Cory Rasmus (0-1) and Buddy Boshers combined to walk four batters in the inning, allowing the Twins to break a 3-3 tie and win at home for the first time in 11 tries.
Rasmus, on in relief of Jered Weaver, walked Brian Dozier to lead off the seventh, but Oswaldo Arcia followed with a ground ball to second base. Green, a converted shortstop and outfielder, tried to start a double play but fired the ball past shortstop Erick Aybar and into left field.
"Late in the game, I don't want to just give the guy second base -- I want to try to turn two there," Green said. "I should have just given [Aybar] a good throw, and then if the double play turns itself, it turns itself. At least we'd get one at second. But I tried to do too much."
After an intentional walk to Ryan Doumit, Trevor Plouffe drove in the go-ahead run with a sacrifice fly to right. Chris Colabello then drew a walk to reload the bases, and after reliever Boshers fanned pinch-hitter Darin Mastroianni for the second out, Pedro Florimon walked to force home the second run of the inning.
"We just had some young pitchers in that inning who lost their release point a little bit, and that opened it up for them," Scioscia said. "That and the error."
Indeed, it was the error -- Green's fourth of the year but only the second in 30 games with the Angels -- that set up the Twins' rally. But in Scioscia's mind, it also was an understandable miscue.
"It's his first full year of playing second base," Scioscia said. "He's been working out hard and getting a lot of instruction from [coach] Alfredo [Griffin], but he has to experience the plays and use that experience to get better. It's part of the learning curve."
The Angels began a 10-game, four-city road trip with Monday's make-up date of an April 17 meeting that was postponed due to cold, rainy weather -- a far cry from the game-time temperature of 93 degrees in Minneapolis on Monday. The heat might have played a role in an abbreviated start for Weaver, who threw 89 pitches in six innings and left with minor soreness in his right forearm.
"It just started tightening up a little in the third or fourth," Weaver said. "I got through the sixth inning, and Scioscia didn't want to push it any more, which is understandable. It's nothing concerning. Just maybe [with] the hot, humid air and losing a lot of fluids and stuff it started tightening up there a little bit, but it's not a concern."
The Twins got on the board first in the bottom of the third, when Mike Trout came within inches of making another of his patented highlight-reel catches. After Florimon reached on a perfect drag bunt, rookie catcher Josmil Pinto hit a drive to deep left-center field off Weaver. Trout closed on it quickly, but he ended up a half-step shy as the ball smacked the padding atop the wall and trickled away for an RBI double.
"Any ball that goes up into the air out there, I'm pretty confident that [Trout] is going to pull it in," Weaver said. "He's made some terrific catches out there. I didn't think [Pinto] hit it that good. I kinda got him out in front, and he put the good part of the barrel on the ball, and the ball just kept carrying. Mike put a good effort into trying to make that catch, and he just couldn't come up with it."
The Angels countered with a two-spot in the fourth to take the lead, 2-1. Mark Trumbo and Chris Iannetta singled before Kole Calhoun tied the game with a run-scoring double down the right-field line. Green then drove in the go-ahead run with a grounder to third base. They tacked on a run with an RBI double by Josh Hamilton for a 3-1 lead in the fifth.
Weaver wiggled out of a first-and-third, one-out jam in the fourth, fanning Florimon and inducing an Alex Presley popout to preserve the lead. But he was not as fortunate in the fifth. With Pinto on first and two outs, Doumit doubled and Plouffe drove home both runners with a single to short center, tying the game at 3.
"I made a pretty good pitch to Plouffe, but he kind of stuck his bat out there and hit it back up the middle," Weaver said. "Sometimes you're going to get guys out, and sometimes you're not -- he came up with a big hit there to tie the game up. It was a battle."
Doumit added an insurance run with an RBI double in the eighth inning. Twins closer Glen Perkins pitched the ninth and earned his 33rd save in 37 chances.
After the game, Green was still thinking about the error, but he was already looking forward to a chance to redeem himself in the field.
"It's something that I'll learn from," he said, "and the next time I get that exact same play I'll make it."
Patrick Donnelly is a contributor to MLB.com. This story was not subject to the approval of Major League Baseball or its clubs.