Braves call up top catching prospect Bethancourt
Braves call up top catching prospect Bethancourt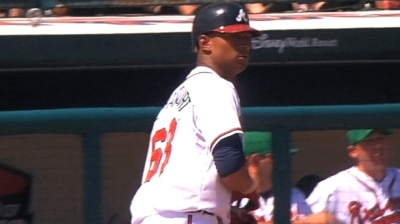 ATLANTA -- Christian Bethancourt, the Braves' top catching prospect, will spend the next couple weeks acquainting himself with the Major League scene and reaping the rewards of a successful season with Double-A Mississippi.
After Mississippi was eliminated from the Southern League playoffs on Sunday, the club's manager Aaron Holbert asked Bethancourt to address his teammates about the season they had just shared together. Holbert then provided an unexpected surprise by informing Bethancourt that he had received his first call to the big leagues.
"It's pretty much the best thing in the world that I finally made it to the Majors," Bethancourt said. "When you grow up playing baseball and watching baseball, that's all that matters, to get to the Majors. When you get here, it's just a dream come true."
Bethancourt had already made plans for his family to pick him up at the airport in his native Panama on Tuesday afternoon. But now it appears his mother will be traveling to Miami on Tuesday to watch the remainder of this week's series between the Braves and Marlins.
With three catchers -- Brian McCann, Gerald Laird and Evan Gattis -- already on the roster, Bethancourt is not expected to get much playing time over the next couple of weeks. But he will at least have a chance to acquaint himself with the big league lifestyle.
Given the likelihood that McCann will go elsewhere as a free agent this winter, Bethancourt and Gattis are the most likely candidates to begin the 2014 season as Atlanta's starting catcher.
"We think the world of [Bethancourt] defensively," Braves manager Fredi Gonzalez said. "He's had a nice season offensively at Double-A. We'll bring him up here and just let him get some experience. Like I told him, I don't know if we'll get him some playing time or an at-bat. Since he's here, if we can plug him in somewhere, I'd like to do that. But we've got to take care of some other business first."
While the strong-armed and athletic Bethancourt has always been lauded for his defensive skills, his offensive potential has been questioned. But he showed more patience during the second half of this season, and he ended up hitting .271 with 12 homers and a .741 OPS in 90 games with Mississippi.
"The last few years I've been trying to be consistent defensively and offensively," Bethancourt said. "I think the hard work I've been doing for the last two, three or four years in the Braves' organization finally paid off. I'm really happy with the season I had. It could have been better. But it is what it is, and I'm happy."
Mark Bowman is a reporter for MLB.com. This story was not subject to the approval of Major League Baseball or its clubs.