Eaton sees every day as an opportunity
Eaton sees every day as an opportunity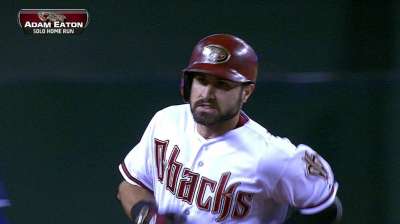 LOS ANGELES -- Aside from trying to help his team win, D-backs outfielder Adam Eaton has one goal each day.
"Every day I continue to try to learn, try to take something away from every game -- whatever spot I'm hitting in or position I'm playing," Eaton said. "The more experience I get in each spot, the better off I will be."
That's why the elbow injury that sidelined Eaton for the first three months of the season was so harmful. His elbow healed, but the time he missed slowed his progress.
"He definitely missed out on that," D-backs manager Kirk Gibson said. "He improves with experience as he should."
After initially struggling at the plate when he came off the disabled list, Eaton has found his stroke at the plate, hitting .321 with an on-base plus slugging of .887.
"I think Adam was behind when he came back and he hasn't had a lot of big league time, so he's got a lot to learn, period," Gibson said. "It's just a natural process and he's doing well, he's paying attention. I think he's enjoying it now. Kind of taking the pressure off himself."
The mental strain that comes with focusing so hard on learning the game can take its toll as well, but dealing with that is part of the process for a young player.
"It's good for him to play a tough game and not only be physically tired, but mentally tired, go home and regroup and then do it all over again," Gibson said. "That's kind of part of the routine."
Steve Gilbert is a reporter for MLB.com. Read his blog, Inside the D-backs, and follow him on Twitter @SteveGilbertMLB. This story was not subject to the approval of Major League Baseball or its clubs.