Uribe's three homers put Dodgers back on track
Uribe's three homers put Dodgers back on track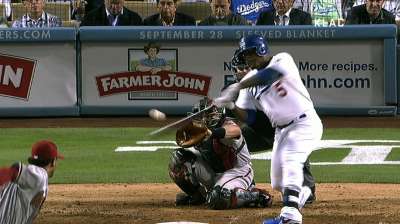 LOS ANGELES -- Juan Uribe led a home run barrage on Monday night as the Dodgers moved closer to securing a spot in the postseason.
Uribe had three of the Dodgers' six home runs in an 8-1 win over the D-backs at a sold-out Dodger Stadium. The victory snapped a four-game losing skid and cut the Dodgers' magic number for clinching the National League West title to eight. Los Angeles could clinch the division as early as Saturday.
The Dodgers scored seven runs over the weekend during a three-game sweep in Cincinnati, but matched that output through five innings on Monday.
"We needed it," said Hanley Ramirez, who went deep for the second time in as many games. "I think our confidence was a little bit down."
Uribe's confidence was certainly riding high after the first three-home performance of his career. He combined with Andre Ethier for back-to-back solo shots in the second inning before going deep again in the third and once more in the fifth. He also contributed in the field with a difficult barehanded play at third base, and drove in another run with an infield single.
"I feel happy," Uribe said. "I had a good game and the team won the game."
The power surge provided starter Ricky Nolasco with plenty of support. Nolasco allowed only an unearned run on three hits in 6 2/3 innings to win his seventh straight decision.
"Any time you've got offense like this, it just helps a ton," Nolasco said. "It makes my job a lot easier, just attacking guys and going right after them. I could get used to this."
Nolasco struck out six and walked one to improve to 8-1 since he was acquired from the Marlins in early July.
"He's a gamer," said Ramirez, who played with Nolasco in Miami last year. "When he's on the mound, he's going to keep you in the game. I think that's why we got him. He's a great teammate and we're happy to have him here."
A native of Southern California, Nolasco has thrived with the club he grew up rooting for, posting a 2.07 ERA in 12 starts with the Dodgers.
"It's just nice being able to pitch for this team," Nolasco said. "This is home for me, and that definitely helps. This is the team I always wanted to pitch for, so that helps as well. But this team is just unbelievable."
In the Dodgers dugout, excitement grew with each Uribe homer. His peers describe him as a great defender, and an even better teammate.
"Everybody loves him," Ramirez said. "I think everybody here wants him to do good. He's one of the greatest teammates I've ever had. He keeps everybody smiling and positive."
Uribe hardly played during the final months last season, but he did not sour, and that did not go unnoticed by the Dodgers. This year, he's regained his starting job at third and figures to be a key piece in October. In addition to his World Series experience, Uribe keeps the clubhouse loose.
"The boys have a lot of fun with him," said manager Don Mattingly. "It was a good win for us, but to see Juan do it is always nice."
The Dodgers' six homers were their most since they hit seven against the Padres on Sept. 18, 2006.
Adrian Gonzalez crushed a two-run blast to the opposite field after Ramirez scorched a double with one out in the third. Gonzalez leads the Dodgers with 20 homers and 89 RBIs this season. He added a double off the fence in right-center in the seventh.
Ramirez lined the first pitch he saw leading off the fifth into the left-field pavilion. The shortstop has three homers in his past four games, and 18 in 76 games this season.
"It looked like batting practice or the Home Run Derby or something like that," said D-backs catcher Miguel Montero. "We couldn't keep them off balance, they were on every pitch. They swung the bats good and Nolasco once again threw a good game against us. We made a lot of mistakes out over the plate and they're good enough to hit it."
Uribe's three dingers were the most by a Dodgers player since Ethier hit three on June 26, 2009. Uribe settled for an RBI infield single in the seventh inning, his only shot at a four-homer game. That feat has been accomplished twice in club history, by Gil Hodges for Brooklyn on Aug. 31, 1950, and on May 23, 2002, by Shawn Green, who was on hand Monday to participate in the ceremonial first pitch.
Four of the Dodgers' homers came off D-backs right-hander Randall Delgado, who recorded just eight outs for his shortest start of the season. Los Angeles also went deep twice against reliever Eury De La Rosa.
Austin Laymance is an associate reporter for MLB.com. This story was not subject to the approval of Major League Baseball or its clubs.