D-backs plagued by six Dodgers homers
D-backs plagued by six Dodgers homers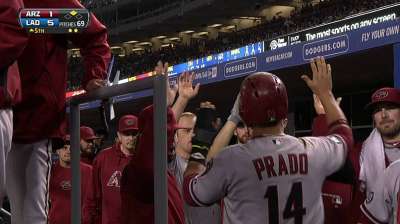 LOS ANGELES -- The last time the D-backs visited Chavez Ravine, they were in first place and the Dodgers were stuck in last.
A lot has changed since that series in June, and the Dodgers reminded the D-backs of that on Monday night by hitting six home runs, three by Juan Uribe, en route to an 8-1 win.
"It looked like batting practice or the Home Run Derby or something like that," D-backs catcher Miguel Montero said. "We couldn't keep them off balance, they were on every pitch."
The loss leaves the D-backs an even dozen games behind the Dodgers in the National League West and nine games behind the Reds for the final NL Wild Card spot.
The Dodgers' power display began in the second when Andre Ethier and Uribe opened the inning with back-to-back homers.
One inning later, Adrian Gonzalez hit a two-run homer and Uribe hit his second solo shot as the Dodgers took a 5-0 lead and sent Arizona starter Randall Delgado (4-6) to the showers.
"Sometimes this happens," Delgado said. "I tried to keep it under control and go deeper in the game, but I couldn't."
The home run ball has bit Delgado throughout this season. He has allowed 1.8 home runs per nine innings pitched, which if he had enough innings to qualify, would be the worst ratio in baseball.
"I have a lot of questions about it," Delgado said when asked what he thought the reason was for allowing so many homers. "I thought I figured it out a month ago, but now it's happening again."
Said D-backs manager Kirk Gibson, "He's got some good stuff. He's just got to learn to locate and keep pitches out of the middle of the zone."
After Matt Langwell held the Dodgers scoreless in the fourth inning, they got things cranking again in the fifth off Eury De La Rosa.
Hanley Ramirez greeted De La Rosa with a home run, and two outs later Uribe connected again and put the Dodgers up, 7-1. Uribe is the first Dodgers player to hit three home runs in a game since Ethier did it on June 26, 2009.
"I felt happy," Uribe said. "I felt good. I had a good game and the team won the game. I want to make my team happy. I want to make my team good. I want to be a good teammate."
One big addition for the Dodgers since their June meeting with the D-backs has been right-hander Ricky Nolasco, who was acquired from the Marlins on July 6.
Nolasco has faced the D-backs twice since the trade and has won both starts. He allowed just one run in Arizona on July 9, and he came close to equaling that Monday as he allowed one run over 6 2/3 innings to improve his record to 13-9 overall and 8-1 with the Dodgers.
"Just changing speeds, locating his fastball, he really doesn't give you that much to hit," Montero said. "He pitches around the corners pretty good and his breaking ball was sharp. His breaking ball has been outstanding, it's hard to hit and hard to lay off. Once again he threw a good game."
The Dodgers' six homers were their most in a game since they hit seven against the Padres on Sept. 18, 2006.
Meanwhile, Arizona's offense has hit the skids. After scoring four runs Thursday against the Giants, the D-backs have managed just five runs in the last four games. The offensive malaise, paired with Nolasco's stuff, was bad news for Arizona.
"He's beat a lot of guys," Gibson said of Nolasco. "He's got four pitches and he's able to use them all any time and throw them for strikes."
The Dodgers came into the series having dropped four straight games and arrived in the wee hours of the morning following a Sunday night game in Cincinnati.
On Monday night, though, they did not look any worse for the wear.
"We needed it," Ramirez said. "I think our confidence was a little bit down."
Steve Gilbert is a reporter for MLB.com. Read his blog, Inside the D-backs, and follow him on Twitter @SteveGilbertMLB. This story was not subject to the approval of Major League Baseball or its clubs.