Angels begin longest road trip of season
Angels begin longest road trip of season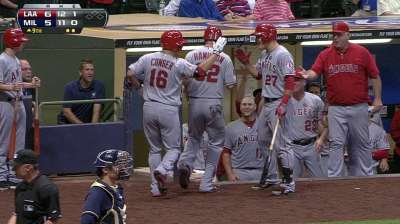 MINNEAPOLIS -- The Angels kicked off a 10-game road trip Monday that will take them to four cities, three time zones and two countries, starting with a one-night stop in Minnesota for a make-up game against the Twins.
The teams were officially rained out April 17, but after playing two straight nights in miserable spring weather -- game-time temperatures in the low 40s, dropping into the 30s throughout the night -- it felt more like an act of mercy when the series finale was postponed. Monday's playing conditions were a stark contrast to the first two games in the series -- humid with a temperature of 93 at the first pitch, as the late-arriving summer stubbornly refuses to release the Upper Midwest from its clutches.
From here, the Angels will play six straight games in domed stadiums -- three in Toronto and three in Houston -- before returning to California for a three-game set at Oakland starting next Monday. The tacked-on game against the Twins makes it the longest road trip of the season, edging the nine-game trek through Seattle, Tampa Bay and Milwaukee that concluded Sept. 1. At least the geography of this trip makes a little more sense.
"It could be worse -- we're on the way to Toronto, so it's like we're just stopping overnight," Angels manager Mike Scioscia said. "And the length of the road trip, at the end of the season, you just have to chop them up game to game and put your heart into every game and hopefully play well. All of a sudden you're halfway through the road trip, and then you're done."
The timing of the two longest road trips of the season actually works out pretty well for the Angels, who have been playing some of their best baseball of late, especially on the road. After a disappointing 1-5 homestand in mid-August, they went 8-1 on the nine-game trip, and this week they will catch three teams playing out the string before wrapping up their trek with a chance to play spoiler in Oakland.
Their 32-35 road record entering Monday's game was actually a few games better than their 35-40 mark at home. But at the end of the day, it's all baseball, and that is what Scioscia wants his players to focus on.
"I don't think we have to overthink this -- it's part of the baseball schedule," he said. "It's happened before, and it got us now, where we're going on a trip where we'll be in four cities. You just have to go out there and play well."
Patrick Donnelly is a contributor to MLB.com. This story was not subject to the approval of Major League Baseball or its clubs.